So I was just watching the opening ceremony or the Olympics and I'm sorry but like how awkward would that be. Especially for the people that work there and just wave as they walk down and have to act as though people are watching them but like really nobody is. And then the actual athletes are walking down having to look hype and they have just worked all of their lives to get to this very moment that they might never have again and are now walking through an empty stadium with a bunch of people who are more focused on fucking demolishing you than they are actually interested in you. I especially feel bad for the countries that literally have 2 people in their group and they are always pretty much socially distancing themselves from each other. I mean surely if you only had that person in your team you would be pretty close or at least tolerate each other.
Don't get me wrong, what they are doing is absolutely awesome and I would never be able to get to that point but I would be pretty pissed if nobody was watching or cheering me on because that would really boost the ego. I guess that is unless you literally suck at it and land on your face when running or something. Even though you know millions of people are watching at home, it would be less embarrassing than thousands of people seeing you knock yourself out by tripping over your bloody laces. I think that at some points I would get so used to having nobody physically there watching me and I would end up doing something really embarrassing like singing and dancing to myself in the mirror and then I look next to me and there is a camera man absolutely pissing himself knowing he is gonna get bank for this. I would also have to do a few wee office moments where like if I didn't win I would do a cheeky wee unbothered Jim side eye. I would also get so distracted by them and I know that they will always be there even when corona is a thing, but like now they are the only other things in the room and my short attention span would actually make me forget where I was and then I'd get a volleyball to the head or some shit.
I would also get embarrassed because you know when they are doing the national anthem and they are proper looking in the sky while the cameras are going along a line videoing them and they are always so emotional but like I probably would be singing the wrong words or like feel as though I need to look at the camera and I would turn into some sort of meme with the caption "that creepy kid in the restaurant that keeps staring at you". That isn't even a joke. Do you reckon that they actually have to practice the national anthem or they already know it because I only know the first section of mine and then from their I am either bored as shit or just moving my lips but not making a noise. They probably do though. I actually do think that I would be trying hard not to laugh because I'll just remember that one woman that absolutely butchered the American anthem because, although it isn't my country's anthem, it is absolutely fucking hilarious.
I have to say, she isn't a bad singer, she obviously got some skills but like for fuck sake, where was the need. Like honestly love. I wonder if she watched this back and was like why the fuck? Was she on crack or did she just love a cheeky wee remix. And the players where near pissing themselves. They did pretty good though because I know i'd be dying in the background. I kind of want to make this my alarm in the morning so I can wake up with great vibes. They aren't lacking you gotta admit. And then at the end she was like "let's play some basketball!" as though she really did something. Miss ma'am, you just slam dunked that anthem into the pits of hell, this ain't no masterpiece bitch.
This post got a bit off topic I think, but I guess what I wanted to say was that I feel bad for the Olympians this year and I hope they have a great time and sleep well on their cardboard beds. I also hope they get another chance next time so they can have the whole experience. Apparently it's in Paris next time so I might have to have a wee scoot over because it ain't a long flight from where I live. Maybe I'll have a cheeky croissant or have a hot girl summer with the french dudes. But no matter what, and I mean no matter what, I am not gonna do the fucking tourist picture shit with the Eiffel tower. Did you know somebody actually married the Eiffel tower?! NO JOKE.
And on that note, I will see you tomorrow. Thanks for being patient with my posts guys because I been kind of a busy bitch lately with work and all that going on. It's a hard not life for a working woman who also hates being around anything and anyone 🙂 So yeah I'll hopefully talk tomorrow and please don't forget to subscribe so that you don't miss the next one because I know you are gonna want to read it. I don't know what it is yet but I know it's gonna be great. I hope you have a great day, stay safe and stay yourself PERIODT.
---
Ok so look, I haven't been posting in a bit because I'm busy and all that shit. Wow, I'm a poet and I didn't even know it. Anyways, I reckoned I would post something today while I have the chance and I wanted to do a wee story time or something. And this will be … Continue reading I Think I Know Why I'm So Stupid
To any foetus child out there who is like what the fuck are genes, basically they are the characteristics that we get from our parents and they make up who we are and what we look like. For example, I inherited my dad's white ass Irish skin which burns like a bitch whenever a bloody … Continue reading I Hate Genes
Bitch, I don't know much about this movie. I mean I've watched it and I know the general plot but like the only thing that sticks with me to this day and the phrase that every organism is aware of is when he says "mama says life is like a box a chocolates, you neve' … Continue reading Who Else Is Pissed At Forrest Gump's Mum?
Make a one-time donation
Make a monthly donation
Make a yearly donation
Choose an amount
Or enter a custom amount
£
---
Your contribution is appreciated.
Your contribution is appreciated.
Your contribution is appreciated.
Donate
Donate monthly
Donate yearly
To any foetus child out there who is like what the fuck are genes, basically they are the characteristics that we get from our parents and they make up who we are and what we look like. For example, I inherited my dad's white ass Irish skin which burns like a bitch whenever a bloody tea light goes within 1 mile of it. So it's not ideal. I also inherited his lack of eyebrows which shocked me, but you couldn't tell because you couldn't see my eyebrows expressions. I slightly blame my twin for that because, although it is probably scientifically impossible, I believe she robbed them from me in the womb. Unfortunately that doesn't stand well in court so I never got back what is rightfully mine smh
I do have blonde hair which really is the only thing going for me but it is going darker and I resent that but it is what it is. Oh and I forgot to mention, I swear my twin stole my teeth because I have two missing and she's a bit sus if you ask me. She isn't little miss perfect after all. When she dies I swear I'll find a long note releasing the truth. I don't know why she would do it but like it meant that for 13 years of my life I looked like your crazy young cousin whose only personality trate is losing their teeth. And now I have fake teeth that I sometimes think will fall out. IM FUCKING 16 YEARS OLD YET I'LL LITERALLY HAVE FAKE TEETH DRILLED IN MY MOUTH AT 18. I remember one time when I had to put my fake teeth in my retainers and one day I forgot them for some dumb fucking reason and I was like dad we need to turn back and he was like no. The trauma this man caused right then was astronomical but he didn't give a shit. I kid you not, I had to spend that whole day trying not to smile with my teeth or talk to anyone but then in one of my classes I forgot and smiled at someone and they looked at me like what the fuck and then was like "where have your teeth gone". Keep in mind I was 13-14 so all my teeth should have fallen out and grown back so it was weird. I also regret this moment because I could have pranked them so easily by acting scared and going "oh my god where the hell did they go" but no I had to really say "I forgot them at home". I FORGOT THEM AT HOME! What the actual fuck. No teen should have to say that they left their teeth at home. I am still recovering from that chat.
But back to what I wanted to talk about today. My pale ass skin. I kid you not, I only have two different options. White as fuck or red as fuck. Yesterday I thought I would switch it up a bit so I got burnt to a crisp. I regret it. Why do I never learn. I literally thought I could wish my way into going tan but instead I look like a fucking stop sign. It was dumb how it happened though because I must have forgotten to put suncream on like half of my legs and I didn't realize. Like I knew my attention span was shit but I thought I could at least pay attention to this. So I had work after and I was basically cooking the meals on my legs cause they were burning so much and then when I took them off later I thought I was turning into Elmo because those bitches were RED. I basically bathed them in aloe Vera and cried because I am now currently on the way to a beach where the general public are and they can see my bright ass legs. Everyone also seems to have to point them out. Like just when I stop thinking about it someone needs to pop out from the sky and go "OH MY GOD" literally like Janice from friends "YOU ARE GLOWING" and I look at them like no shit Sherlock. I didn't realize that my legs could double as a flare to attract planes and a heater to toast our sandwiches. Leave me and my burns alone. And of course my twin fans. That cheeky bitch. How did I get the pale skin, invisible eyebrows, missing teeth AND the mental illness 😮
Anyways that is the post and I'm glad to get that off my chest. Please feel free to comment some things you inherited from your parents or whether you relate to some of the things I have. Have fun in the sun and don't forget suncream bitches. I hope you have a great day, stay safe and stay yourself PERIODT
So I was just watching the opening ceremony or the Olympics and I'm sorry but like how awkward would that be. Especially for the people that work there and just wave as they walk down and have to act as though people are watching them but like really nobody is. And then the actual athletes … Continue reading The Olympics: Awkwardness Unlocked
You see, I have been to Florida, California, Turkey, Spain and some other places and they have all been really warm. Like obviously they were roasting places, but not one of them (well, maybe Florida) roasted or toasted me like the UK does. It's as if the sun piled up all it's heat that is … Continue reading Summer In The UK Is No Fucking Joke
Now, I ain't tryna rub this in anyone's face or nothing but like, I have a small group of really close friends and despite the fact it took me a while to get over myself and make friends, it was totally worth it because we are so close. We have never had fights like everyone … Continue reading The Best Part About Having Great Friends
Make a one-time donation
Make a monthly donation
Make a yearly donation
Choose an amount
Or enter a custom amount
£
---
Your contribution is appreciated.
Your contribution is appreciated.
Your contribution is appreciated.
Donate
Donate monthly
Donate yearly
I feel like a lot of people will understand me when I say that there are things that people can literally just talk about and that makes you feel exhausted or just unmotivated to do that thing despite the fact you aren't even going to do it but the thought of it is so horrible you want to cry? That is a bit of a weird introduction but you know what I mean, right? Like if someone was like "oh my god do you remember that time you went kayaking for ages and your arms and legs and everything were exhausted and then you had to do a 10K walk afterwards?" By the way, that was targeted at my dad and I am still mentally recovering from it. But whenever I remember that it is as if I get PTSD from it and literally get so scared at the thought that I did that. I don't really know where I am going with this intro but I am going to stop now and we can start talking about things that make me physically and mentally fed up.
Camping
As a white family, we did some messed up shit. Like that might sound racist but I have seen videos of POC who are like "white people are messed up" and I agree with that because my family just be going outside in the middle of nowhere to shit in a fucking forest and sleep with the bloody insects. We used to do this a lot and I guess it was fun with my friends but like now that I have half a brain and am not made to enjoy things, I really do hate camping. I'm sorry but I just don't see the point. You gotta pack and carry a bunch of shit and bring in to the middle of nowhere or go to a cramped site with a bunch of kids screaming and people being actually active and going on walks at like 5 in the morning and, while there are toilets, they are so stinking I feel like I contracted 10 diseases just by washing my hands. To be fair, I don't mind if I set up a tent in my back garden, but if you expect me to bring fucking sleeping bags and a fire starter, I will in fact run away. So I can not be bothered to go camping. I would prefer to look at the stars from the comfort of my bed, looking through the window or standing outside for a sec while the kettle is on thank you very much.
Small Talk
I'm sorry but we need to normalise going straight to the deep stuff. And that doesn't mean "what is your star sign" because at that point I would walk away, but I mean instead of being like "the weather is crap today isn't it lol", why can't we just be like "What is your favorite childhood memory". I know that sounds creepy as fuck and I definitely wouldn't just go up to someone and say that, but like I hate small talk. It is so cringey and awkward and it very rarely leads to anything. We can hardly go like "yeah the weather is crap, but do you know what else is crap? The cats movie" and then go off on a whole tangent because to me it seems desperate. It is also awkward starting off small talk. I know it is kinda just to fill in the awkward silence but I honestly hate starting a small talk convo because you just be like "sooo… how are you" like what the fuck is that.
Raising a Child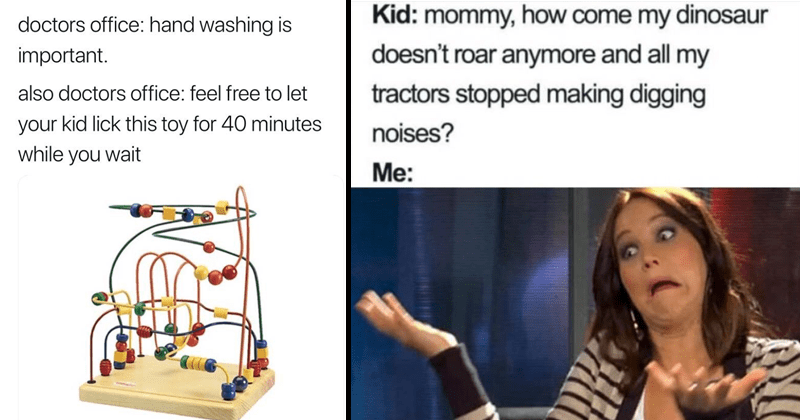 To be fair, I am a wee bit away from this happening to me… I hope, and my mind will probably change but does it not sound so scary to have to push a fucking human out and then one day they just kick you out of hospital and you and whoever your partner is are just standing like, what the fuck do we do now. This is the start of their fucking life. There isn't a big change in the world, sparkles and rainbows don't magically appear. You have to somehow understand what the baby wants by its crying, unless you are one of those people who can somehow communicate with babies or whatever harry potter, 6th sense, fairy-tale shit you have. And I'm really sorry if I am freaking out some pregnant person out there, I am sure you will be great, but like it could not be me. You need to make sure they are fed, they are breathing, they sleep, they shit everywhere, they get bored, they cry, they live. They are a freaking tiny human and you are making up a personality and a life for this baby. It sounds awesome but like what if they turn out like a prick. What if your child is a prick or just really annoying and creepy and now you have a literal annoying person living with you and if you say anything, they turn into rebellious teens and you are just waiting until they turn 18 but that is a long fucking time. But yeah, good luck to all the parents aren't there. At least society takes most of the blame for how mentally fucked they have become 🙂
Not Wearing Face Masks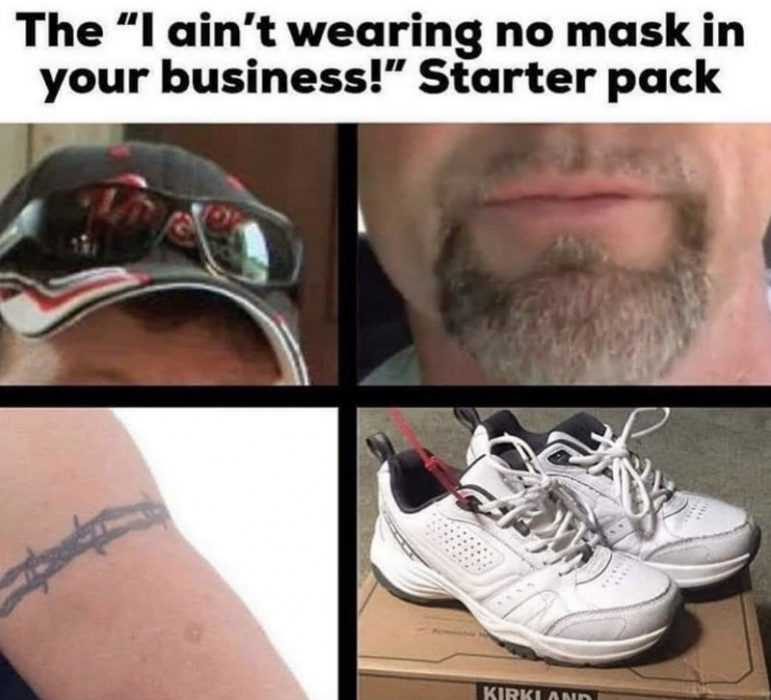 Despite the fact a lot of people are so dramatic with face masks and literally complain every second about how they "can't breathe" or "this is so uncomfortable", I kinda am going to be screwed when we don't have to wear them anymore because I do weird things with my mouth when my mask is on. I have a habit of doing that weird awkward smile all the time or just sticking my tongue out a wee tiny bit for absolutely no reason and also making tiny noises, but when I take it off I will have to remember that people can see my face and the weird shit I do with it and sometimes I can be quite expressive so what if in school someone I hate is talking shit and I just look at them with disgust and then see that I am silently judging them! I defo will be exposed but I think I'm ready for it. I don't know why but I always feel ready to throw hands at an annoying person if I needed to or just talk shit for a straight hour. Maybe if it leads to that, I can get some of my anger out and it will get better, yay! Watch me look at everyone with a rude face and start fights everywhere lmao.
Working In The Hospital
I was gonna say working as a doctor, but I feel like it doesn't give the other's justice because I don't think I could do any of their jobs. Like, when I was at hospital, the nurses were always so lovely and kind even though they had 10 old people arguing about the TV, 5 kids throwing up, 3 doctors ordering them to do things at a time and a partridge in a pear tree. They really do the most and are still happy but I cry if I burn my toast in the morning. That is a different type of hurt though. I am also watching grey's anatomy at the moment and, firstly it is awesome, but secondly, what the actual fuck. They just all seem to know everything. This guy could come in and cough once and they would be like "oh my god he has supercalifragilisticfeefifofumI'mgettingrippedtonight. And then they know how to fix it. How do they remember all that! Seriously though can any medical person please say how you know it all instantly and stay calm when you have to save people from near death and you know every detail and name of things. It couldn't be me. I would get stuck on how to pronounce a word and then not realise my patient is literally having a seizure right next to me. I respect you guys honestly. I also want to know if you actually do literal 48 hour shifts! Is that not literally kinda bad for you and also having to diagnose people. Do you not just cry at every single patient you see. Could not be me but thank you for volunteering as tribute *wistles*
Anyways, that's all I can be bothered with today in all honesty. Here's a bonus. Can I be bothered to do more? No, so yeah. But please do comment below if you have anything else to add, I always love seeing what you have to say, and make sure to like and follow for more. I hope you have a great day, stay safe and stay yourself PERIODT.
---
You know, this title may seem harsh but like if you haven't watched these I really do have to question your mental well-being and ask how long you have been living under a rock. Like, these shows are so elite that I had that empty feeling when it finished. You know when you get so … Continue reading If You Haven't Seen These Shows, Don't Talk To Me
So, with making this blog I wanted to make sure I was completely honest with you guys. I know that makes it sound really scary as though I'm gonna be like "I am Michael Jackson, I in fact did not die" but it isn't that deep. It's just a thing that most of us go … Continue reading Ok, But Like Where's The Need?
You guys need to settle something for me today because just this morning I was confronted by a crazy, telly-tubby lookin' ass bitch on my walk and she really angered me, I will tell the story in a sec, but when I told my mum she seemed unfazed. So today, with your opinion, I will … Continue reading Do I Have Anger Issues Or Was She Just a Bitch?
Make a one-time donation
Make a monthly donation
Make a yearly donation
Choose an amount
Or enter a custom amount
£
---
Your contribution is appreciated.
Your contribution is appreciated.
Your contribution is appreciated.
Donate
Donate monthly
Donate yearly
Hey guys. So this week has been a very "what the fuck" week if you get me. Like there are a lot of moments where I have been asking myself "what is even the point lol". NO, I don't mean that in a mentally ill kinda way, but like when I am told to do things or I see someone doing something, I am just wondering why the fuck I would do it
A marathon
Do I really need to say anymore? I mean why the hell would I be like "on my time on this earth, I will only feel proud when I can run a fucking long distance". Bitch what sort of trauma do you have because that isn't sane people shit. Like I am sorry but why would you want to. You would get so bloody bored as well. So you are sore, tired and bored, I go through that all on a regular bases anyways, so I don't really see the need to run to get those things. I mean I suppose I could see if it is for a charity, but like Mo Farah and other Olympian people literally do it as a warm up or something. I used to run and do 5k but that shit was so boring and I hated every second of it. To any runners out there, are you ok?
Camping
I just know that my friends are reading this like "will this bitch ever let it go" because we are making a bucket list of things to do during summer and a couple of them were like absolutely, camping is such a great idea, and me and others are like "but why". But like seriously, this needs talked about. Why would I willing sleep outside, in the cold, where there is no body that can hear me scream, no help near, I have to piss in the woods, sleep with insects, get all smelly, have to carry a bunch of things there and back, not have a very nice meal, literally be kidnapped etc. When I could literally be warm in my bed, watching a movie, hear the rain from the comfort of my house, no insects, have nice food, not have to carry anything anywhere, relax, piss in an actual toilet, and have less chance of being murdered in my sleep. Like give me a reason why camping sounds better? There argument was that it is an adventure and unique, but bitch the only thing making it unique is that you won't be able to do it again because you are dead. Like… And it is hardly like you are going to do anything groundbreaking when you get there. Like you are hardly going to set up a tent on top of dinosaur bones, or right next to a top-secret Russian spy base. Like we live in Northern Ireland. The most you are going to find is an empty Guinness can.
Relationship
I am definitely not mentioning this just because I never have a chance with going out with anyone, so don't get that idea in your head
But in all seriousness, are you telling me I have to pay attention and talk to them on a regular bases and leave my house? I don't do that with my friends so why would a man be any difference? I have been in a relationship once and, maybe it was just the guy, but it really ain't all roses and kisses. Like it is tiring as fuck. Maybe if you find an actual nice person, but like other than that I could not be bothered. I really have lost all faith in men at the moment so maybe I am biased. But at the moment I am fine with just living in my shell, only talking to people when I have an ounce of sanity, and having no real responsibility to go out with people and be interesting. lol
The Responsibilities of Being Famous
I am not gonna lie. I feel like it would be cool to be famous and have a bunch of people who know you and actually like you, but then you hear so many stories and then I am like "ok maybe no". Like they have to go to award ceremonies, talk to people, act happy all the time, always say the right thing, always have to post and be active on social media and things like that. They all have really busy lifestyles, and for me productive day is having a shower. Like maybe I am just having a mental breakdown, but surely they have them too and they still need to keep on doing so many things. Maybe it is worth it, I will never really know that, but like do they ever just get a day to stay at home and do literally nothing?
Being a Mum
So this one might be a controversial, might get on some people's nerves, but like if it does you are probably a misogynistic twat so… But what I mean is that, I would like to have children and be a mum, but it is the things you have to do as a mum that gets me. Not even the dirty nappy's or the no sleep part, but the fact that I feel as though mums are still the people doing all the house work. At least it is like that in my family. My mum has a job, like my dad, but she does more work in the office, at home, does the dishes, makes the dinner, cleans, brings us to and from school, the laundry, literally everything. I am not sure if it is like that for all people but it is for me and although I try to help out, I can't do enough to help her. My dad just works and does the dishes/makes dinner whenever he actually has to. The reason I said this might be a bit controversial is because some people will definitely say "oh well women are supposed to be in the kitchen. They are supposed to do those jobs" and I am not saying all of these things should be put onto men, but like why can't it be equal work for both of us. I don't want to become a mum if it means it will turn into the traditional gender roles in society, you know.
Lol anyways, this is kinda what I think about sometimes. It really got a bit deep at the end there didn't it but like oh well. Please like, comment and subscribe if you enjoyed this type of content. I think it is a wee bit of a laugh and I enjoy it. I hope you have a great day, stay safe and stay yourself PERIODT
---
So as a teen going through corona, my list of things I am not bothered to do has pretty much tripled within the fast week, and I'm not angry about. You could blame it on my mental health but you can't blame it on something that doesn't even exist any more. So I'm just gonna tell you some more new things added to my list of things that I do not give a shit about.
Revising
I suppose this is a given, but like I am on a whole new level. As a matter of fact, I am off the charts. But what makes me happier is that pretty much everyone that I asked, hasn't been revising either. Maybe they should make a new chart? LOL but no, I actually cry at the thought of it. So far I am doing well, so maybe I'm kind of relying on fate at the moment. Lets see how long this last for
But it is also so funny that nobody else has really realised that I have given up, because before I was always revising and really stressed for exams, but now I have no fucks left and they still look at me whenever they say "I know a lot of you are working hard". Bitch, I haven't opened this text book since last time we were in school.
Small Talk
Don't even get me started on this. What devil even created this. Why is it that when I sit next to anyone in class, I feel like I have to talk to them or they will think I am a weirdo and a boring person. It is so bad though because I do it all the time and I really can't be bothered. "The weather's pretty crap today", of course it fucking is, we live in the fucking UK. I haven't suddenly lost my sight you know, I can see out the window. And then there are the ones like "looking forward to the test, lol." HA HA since when did you become a fucking comedian John. Or when they say "I am so tired today"… what the fuck do you want me to say? Sorry??? I am fucking tired of your shit conversations.
Wow, I just finished writing that and realised that small talk really is a touchy subject for me. The thing is, I say all of these too because what else am I meant to say? How's your nan? Maybe that is why I hate myself.
Laughing at Bad Jokes
Again, I am guilty of doing this, but the power that it drains from me could light up all of America. Your jokes aren't funny but I don't want it to be awkward or make you feel bad. I know that probably pity laugh whenever I make a joke but like, normalise being honest with jokes. If I don't like your joke, I really can not be bothered to act as though you are the next Kevin Hart babes, so sit down and think about what you just said. Is it bad to have kids and not laugh at their bad jokes or will that give them self-confidence issues. I'm just teaching them to be comedy gold, right? Just for your own piece of mind, I do not have kids at the moment.
Getting Shouted At By a Teacher
I know that from day 1 of my life, I was not up for getting shouted at. I might as well have come out of the womb silent because I didn't want to cause a fuss. In first year, if a teacher even looked at me, the sweat would be tripping me. But after the third lock down, something just switched off. And I am pretty sure that turned off the ability to give a fuck because I am ready for guys. Come tell me off for not writing why I thought the author put a full stop at the end of the sentence, or why I haven't been participating in class. I mean of course I won't be purposefully disrespectful to them, but if they want to start calling my mum, I have got her on speed dial and I am ready to tell her everything. Try me.
Boris Johnson Quotes
STOP! I am literally pissing myself. These are so funny. This literal idiot just is a walking joke and I love how people have just picked out the best bits. "Lovely BLOO passport". I mean why the fuck can't you just speak normally. He gives such grandpa vibes, but like the one who is always drunk and getting in trouble. "purple shampoooooo", why is this bloody Tory so obsessed with the colours of everything. And my favourite one by far… "bloody rapscallions". Oh my, the videos for this make me literally cackle. It is too good.
Photos
I have quite mixed emotions for this. On the one hand, I will have my memories with me wherever I go and I can show it to my kids when I get older. But on the other hand, they are so bloody inconvenient and boring. It is a bit of a dilemma I guess. It takes so long though, especially at parties and you are just like, can we just not do this because I could not be arsed. I would rather be with them in the moment and have photos in my mind, than get photos of every blade of grass we pass.
So yeah, these are some of the things that I can't be bothered to do. Leave comments down below about things you can't be bothered to do. I know there are hundreds out there and I will be making more. I will shout out your page as well, if I use your comment in my next post, so yeah. I hope you have a great day, stay safe and stay yourself PERIODT.
---
Make a one-time donation
Make a monthly donation
Make a yearly donation
Choose an amount
Or enter a custom amount
£
---
Your contribution is appreciated.
Your contribution is appreciated.
Your contribution is appreciated.
Donate
Donate monthly
Donate yearly
So here we go with a new series where I tell you whether or not I could be bothered with certain things going on in the world. Don't worry it will be exciting.
First things first. What has been going on in the world? Despite corona of course because I mean I am so over that. So I guess I can't be bothered. Anyways, what about…
Easter
Now, I am not trying to get all political now. I'm talking about Easter egg hunts and all that type of stuff. I am 15 right now, in that "awkward" phase, if you will. Now here is a question for you? Are Easter egg hunts still suitable for teens? The answer is FUCK YEAH, I'm gonna be bunny hopping this bitch if I need to. My mum had the audacity not to make one this year. So, could I be bothered with Easter? Yes. Normalise enjoying the childish things in life. I mean I can't wait to have kids so that I can go on Easter egg hunts or trick or treating without it looking weird. I'm gonna be the one begging my child to watch blood Frozen. Childhood rules. So yeah, I = bothered.
English Class
You guys already know the answer to this one. HELL NO. I don't need a class to tell me how to overthink every little word because that is in my genes bitch. These teachers also don't even do there job. They just stand in front of the class waiting for us to explain a word we haven't even heard before. These bitches be learning from Dora or some shit. Instead of asking "what is your name" and waiting 10 minutes, they be asking "WHY is your name" and waiting 10 minutes. What the fuck does that even mean? I guess Swipper took all the fucks because I can't give one. I = unbothered
Trick Question
What I mean by this is the questions mums and dads ask that make it seem like you have a choice but there really isn't. I mean just tell me to do something and, yes I will complain, but like then you are just being honest with me which is better ya know. I can NOT be bothered with the let-down when you say "it wasn't a question". I think the fuck it was. You had a "can you" at the start of the sentence which, if I remember correctly, signifies a question. So just get the pain done and over with. I = unbothered.
Gifts
Now, I don't want to seem rude but like I never know what to get anyone and I hate having to think of something suitable for the person and for the amount of time we know each other. The worst thing is buying for boys because there is literally nothing I can get them that they don't already have. Although the good thing is, the only boy I have to get gifts for now is my dad so it is all good. But yeah, over all, gifts are stressful as fuck and I would prefer to show them what they mean to me in a different way. Can I be bothered? No.
Clothes Shopping
Yes, I am a teenage girl, and yes, I don't like clothes shopping. I mean if you think about it, it is boring as hell. All the clothes now a days are so… out there, and I am not a very out going person so I don't like to wear clothes that are adventurous. Wow, everyone reading this definitely now thinks I am a hermit crab… but you can't prove that 😮 Now, don't get me wrong, I do like me a few new clothes, but when I have to go and find something I just can't find something I actually like and then I get exhausted and in the end it is just my mum throwing stuff in the basket that my 8 year old cousin would probably wear. I prefer to buy clothes if I haven't planned it or if I am just on a wee trip with the mates, ya know. So yeah, I could not be bothered.
Arguing
My sister's are very… opinionated. They don't take shit from nobody and always speak there mind. Which is a good thing, don't get me wrong. I mean I respect that. The thing is, I am not. I don't like to argue with people for reasons and I just agree with them, to an extent I guess. There are things I am concrete about and I will body slam people if they disagree. But no, if I said something I found out and they were like "that's not true" I would be like "oh ok then" and move on. Or if I liked someones music and they were like "that is utter crap" I would be like, yes it is, and never listen to it again. So yeah, arguing is not my cup of tea. UNBOTHERED.
LOL so these are just a few this I wanted to say in this. These weren't really about current events, but I could not be bothered. Yup, you got another one. I'll see what I can do for you next time though. Comment below if you agree with any of these or if you have anything else that you can or can't be bothered with and maybe I will mention them in my next post 😮 Please like, comment, and subscribe if you liked this content. Hope you have a great day, stay safe and stay yourself PERIODT
---