In the wise words of Ariana Grande, "whoever said money can't solve your problems must not have had enough money to solve 'em" and I live by that honestly. It is true though. Like a lot of my problems are caused by money but can also be fixed by them soooo. But every time I hear that phrase, I just think of the mugs that we all got as a kid and it would say "money can't buy happiness but it can buy you cupcakes" and we would literally eat it up. We thought we were so fucking relatable when we had bloody chocolate milk in that mug or something like that. That's what I hate though whenever I tell people I want to get rich and live the life I want and they are like "but money isn't everything. It can't solve your problems" and I just look at them like "I don't give a flying fuck if it doesn't solve my problems. It would be impossible to solve that many. Even my therapist can't do it bitch, but I would rather be depressed in Greece under the sun with a lovely view, than stuck in Northern Ireland with the view of bloody chavs roaming around the streets. You get me? I mean which one do you prefer? Be honest.
And I think that having a lot of money wouldn't solve all my problems, but it could solve someone else's. I want to do charity work in Africa or something or like give a homeless person a house, but if I don't have the money, what the fuck am I going to do? Walk up to a homeless person and say "you see that house there. That is yours… is what I would say if I have the money but I don't" *walks away* I mean that doesn't sound fair to me. And I don't see why people get so pressed whenever you talk about wanting lots of money. Like I'm just talking to my family or something and I'm like "yeah I want to get rich and travel the world" and they look at me like I just turned into fucking Donald Trump and as though I'm a disappointment for wanting to be successful. Mum and Dad just be like "I thought we brought you up well! I can't believe you've just done this!" *me laughing because I am now thinking of that one vine*
https://tenor.com/embed.js
Yeah, I hope other people got that reference because that would be quite embarrassing if you didn't. But back on topic. Why is it that people think money is such a bad thing. When people win the lottery, others are like "awk you don't even need all that money, why did they even take the money oh my god" and I don't know if they are just jealous or something but like if someone went up to you and was like "well done you won the lottery of £20 million" and you were like "no it's ok I don't really want it. Thank you" and they are like "but you literally bought a fucking ticket for it" and then your like "money doesn't solve your problems, so no thank you" and then the guy says "£20 million fucking will you dumb fuck". Like honestly, you entered it for a reason. So many people do. Do you want to not win it? Do you just like to complain that you never get it, when in reality you would just throw it away if you won. Like yes it is a lot of money but it doesn't mean they are just gonna wipe their ass with it. They probably will donate some or do something nice with it. It isn't their fault for entering a lottery like normal. They didn't harry potter the fuck out of the numbers so they won. It is all by chance. So like why are people judging them the fuck! Make it make sense please because right now I would be loving a couple million in the bank.
I could list about 100 problems that money could solve for me. That isn't even a joke. I wouldn't have to go to school or work ever again, I could travel and see things I never would have been able to see, I could help the less fortunate, I would have more of a voice, I could actively do things to improve the planet, I could do things like skydiving that I have never done before, I could pay for my mum and dad to never go to work again, I could support so many of the people I love. But then again that would make me selfish, no? I think it would be pretty bloody great to get a load of money you know. So to whatever numskull first said "money can't solve your problems", I dare you to win the lottery and find out what it solves, because hopefully it could fix your fucking brain for thinking money won't do anything. But here's what I will do. I will try my hardest to become rich and gather a lot of money, and then I will be the judge that will end the question of whether or not it solves my problems and at the moment, my guess is that it will, so just wait a few years and I'll get back to you *sips wine from "money can't buy you happiness, but it can buy you cupcakes"mug*
Thank you so much for reading this post. It was a tad random, but lets be honest, it was necessary. Who else thinks that money could solve their problems? I know that some of mine could. Not all of them like but money can also pay for a therapist which could help. I don't know, but hopefully we will find out. Please like, comment and subscribe if you enjoyed this content and I hope you have a great day, stay safe and stay yourself PERIODT
---
Check Out Some Of My Other Posts
We love a good self-deprecating post. It is kinda fun though because it is easy and I can say anything I want about myself and I won't offend anyone, unless you are literally the exact same as me. Multiverse?! But yeah, some of these things are kinda basic but, being a person with a typical … Continue reading Things That Make Me Feel Stupid (well, more than usual)
Ok guys, we aren't about to get into some existential shit today because I don't think I can take that at the moment, but I guess it kinda will be but like to a certain extent, so kinda just be warned about that but lets get started into it. This is another weekly reminder post … Continue reading It's All About Perspective
Make a one-time donation
Make a monthly donation
Make a yearly donation
Choose an amount
Or enter a custom amount
£
---
Your contribution is appreciated.
Your contribution is appreciated.
Your contribution is appreciated.
Donate
Donate monthly
Donate yearly
OK so don't even be judging me for wanting to make a wee bit of money. I mean I just want to get out of school and not literally freeze to death. What I also want to do is help you guys do the same. Now look, you aren't gonna literally make millions from one of these, at least I don't think you can but if you keep at it you could probably make a good wee bit. I know that I am gonna keep using them so, yeah. Also I would like to add that I am an affiliate for some of the links in here and I will get a wee bit of a commission, just so it doesn't look like I'm coming for your money LOL
Fiverr
You guys might have heard of this, but it's a wee app where you can literally sell any service you can provide. For me, I sell my voice. LOL this ain't no little mermaid shit, it is just that I will do audio books and stuff like that. But no, it is good and it feels very professional although it is still really easy to get everything filled in. But there are so many services you can sell on there. If you know a different language, computer software, website building, designing, logos, or anything like that then you can already start selling, and that is only a small part of it. There are so many other things that you can sell. I will leave a wee pic for you to click on and you can get onto it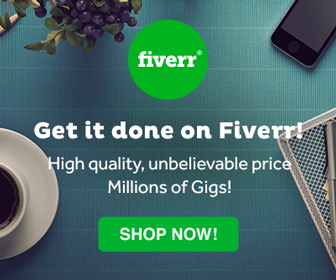 Affiliate Marketing
The first question is, what the hell is affiliate marketing? And what I can tell you about that is it is kind of exactly what I just did. It is where you join an affiliate position for a brand and you just promote their product and website. And like I said on the first paragraph, I do get commission if someone were to click on it. I just like to get that across so that you guys can trust me and know that I don't want to steal your money, I would rather direct you to someplace and get a few benefits off it. It is basically just suggesting things to people but you actually get payed. On most websites all you need to do is scroll down to the bottom and there will be the word 'affiliate' and then all you need to do is sign up and post these things where others can find them.
– Amazon
One of the programs I am in is in Amazon and that makes me sound all fancy but anyone can do it. It is really simple and you may have seen some on my other posts where I leave a link, sometimes those things are affiliate links but other times there aren't. So yeah definitely go check out the Amazon one because it is one of the most well know and trusted websites. Just click here
UserTesting
This is a really great website where all you need to do is record your voice while you review a website. So literally you just say what you think, just anything and they pay you for it. There are ones which can go to $30 to $120 but those ones you have to do on a proper face time, so I just do the ones that are $10 dollars, and that is like £6.50 which is pretty good for only 10-15 mins of work if you ask me. Click here to get to it. You can get it on your phone as well so you can do tests whenever and wherever. Definitely a good one for those on their phones all day anyways.
Blogging
Look, I know you are all probably crying at the screen saying "I thought you loved us!". All I have to say is that at the start I was like, lets make some money, but then I was like, ya know what, this is quite fun. Totally not because I already put in money for this and can't back out. LOL please trust me when I say I was joking about that. I actually learned that I really enjoyed this stuff because I can write about anything on my mind and whenever anyone like my posts I just get so motivated because somebody actually was interested in what I said. We all feel like we are too weird for this world and, maybe I am, but there are others out there who actually do want to hear what you have to say and it really is rewarding. I use WordPress for mine and you can use whatever you want really. You might not actually make any money off it, I know I haven't, but it inspires me to find other ways of making money so that I can keep doing this instead of some boring desk job, although technically I am at a desk right now, but that's beside the point.
Read
Ok, you guys definitely think I am some type of English freak. I am not I swear. I haven't read a book in ages, but then I heard of this book that helped people to be financially stable and I was like, well what have I got to loose. £13 to be exact. But so far it has been worth it and although yuo may be like, how will a book make you money? Well, Karen, this book will teach you the skills to use and make money, so if I didn't have it then I wouldn't have that knowledge or ability to make money, so there is your answer. I would consider it an asset for my future, which you would understand if you read the book. But I am gonna be nice and give you a link to that book. Just click this pic and you can get one ok!
Feature Points
I have just started this and it is one where you just submit surveys that you don't have to record anything, just answer some questions. It is a simple points system and depending on what you do you can get a certain amount of points which can give you money on paypal or for different gift cards, it is quite good I have to say. Again I haven't used it for too long but it is professional and I am gonna keep using it for sure. Just click on the pic and you can go try it for yourself.
Honey Gain
I have actually talked about this before. It is literally the easiest way I have made money. You definitely are gonna think this is a scam, but all you need to do is sign up and wait for the money to come rolling in. It is a source of passive income and I don't know how to explain it without it making it sound sketchy but it is so great and yes that literally is all you do. Click below and you can get started, you'll thank me later
Domains
I haven't actually made money off this yet because it takes more time, but what you do is you go to a site like godaddy.com, you buy a domain for around £10 and then you sell it for more. This can be a bit risky but I have heard of some money who make piles of money from it so I am willing to take the risk if I am honest with you. It does take longer but you don't actually have to do anything which is great. You know what to do by now, click on the pic
Sweat Coin
Do you ever go on a walk and think to yourself, "I need payed for this". Well, it's all sorted for you. Just get walking and your steps with actually be worth it. I suppose it could save the environment. I mean just walk and get money while you go to the store or wherever you need, without using your car, so, your welcome world. Click the pic below and you can start
Poll Pay
Ok I think I just found one of the best survey to money apps. This isn't an ad by the way but with the other apps you may not even get to take the survey or you may have to do hundreds just to get a fiver, but with this one it is made so much more simple and I love it. Just on the picture
Thank you all so much for reading this and I hope it will come into good use for you all. I use these all and trust them all if that is any consolidation ahaha. But yeah, just one more reminder that, as an affiliate, I get a commission for any purchases, so thank you if you bought something LOL but yeah, hope you have a great day, stay safe and stay yourself PERIODT
---
---
I was watching a video today which has the author of 'rich dad, poor dad', Robert Kiyosaki, and he mentioned something that kind of shocked me. He was talking about his dad who had a PhD and was really successful in college, and then continued on with the topic of the video, which was the different mindsets of different people. But the thing was, as the video went on he finally said something along the lines of 'and my poor dad, the one who got his PhD and continued his career in university'. This made me stop for a second. When I first heard about the dad who had a PhD, I thought that he was the rich one. My mind just linked the book smarts with success.
It makes me think, you know, about how we have been programmed to think in a certain way. From the start of our life we have been told that to become rich and successful, we need to do well in school. But what Kiyosaki also mentioned in his video, was that the school system don't want you to know about money or how to make it. He said that his PhD dad told him that the government gave them orders on what to teach and what not to teach. They want to make us into employees, not bosses. Now I am not gonna go into a whole tangent about schools but what I am going to say is that, school doesn't teach you everything you need to know. You probably already knew that though. I mean what student can look you in the eye and say, I know how to pay taxes, I know how to pay the bills, I know how to invest in stocks. I can guarantee you that only a very very small percentage can say that.
I don't want anyone to get confused here though. I am not saying that his 'poor dad' is unsuccessful, because there is no definite definition of success. Maybe his dads calling was to learn a lot about a certain topic and pass it on to other generations. Maybe where he ended was his success. Money isn't the deciding figure for everyone's success. I mean maybe it is for you. I sure as hell no that it is part of the success for me, and that can be a controversial thing to say because people always argue that 'money can't buy you happiness'. Do you know what? You're true. It can't buy me happiness, but it can sure as hell buy me experiences which will make me happy. Money, for me, has a huge impact on what I view as success. I want to be able to live my life as I want it, while helping other on the way. I want my parents to be able to not have to work for the rest of their lives. My view of success for my future is financial freedom. You can say I am materialistic. You can say I am selfish. But I am not. Everyone has been corrupted in their views of billionaires and millionaires and so have I because you feel as though they are selfish and don't give any money for any good. I am with you on that, I am completely with you on that. They do need to give more. But having lots of money doesn't mean they are bad people, it just means that they have worked hard.
Over all, I just want to get across that you can't morph your future into the expectations of other. We don't all think the same and you shouldn't think that doing well in school is the only option for success because, as Robert Kiyosaki showed, even a knowledgeable man was living paycheck to paycheck. You kind of just got to focus on what you can achieve and go for it. If you are interested in reading his book 'rich dad, poor dad' then click here and you can get one. I just ordered it too but I haven't got it yet but I am so excited to start reading it.
Thank you so much for reading and I hope this inspired you even a little bit. If it did, please like, follow and donate some money if you can because I want to keep all of my content free for everyone. Hope you have a great day, stay safe and stay yourself PERIODT.
---
Make a one-time donation
Make a monthly donation
Make a yearly donation
Choose an amount
Or enter a custom amount
£
---
Your contribution is appreciated.
Your contribution is appreciated.
Your contribution is appreciated.
Donate
Donate monthly
Donate yearly