I feel like a lot of people will understand me when I say that there are things that people can literally just talk about and that makes you feel exhausted or just unmotivated to do that thing despite the fact you aren't even going to do it but the thought of it is so horrible you want to cry? That is a bit of a weird introduction but you know what I mean, right? Like if someone was like "oh my god do you remember that time you went kayaking for ages and your arms and legs and everything were exhausted and then you had to do a 10K walk afterwards?" By the way, that was targeted at my dad and I am still mentally recovering from it. But whenever I remember that it is as if I get PTSD from it and literally get so scared at the thought that I did that. I don't really know where I am going with this intro but I am going to stop now and we can start talking about things that make me physically and mentally fed up.
Camping
As a white family, we did some messed up shit. Like that might sound racist but I have seen videos of POC who are like "white people are messed up" and I agree with that because my family just be going outside in the middle of nowhere to shit in a fucking forest and sleep with the bloody insects. We used to do this a lot and I guess it was fun with my friends but like now that I have half a brain and am not made to enjoy things, I really do hate camping. I'm sorry but I just don't see the point. You gotta pack and carry a bunch of shit and bring in to the middle of nowhere or go to a cramped site with a bunch of kids screaming and people being actually active and going on walks at like 5 in the morning and, while there are toilets, they are so stinking I feel like I contracted 10 diseases just by washing my hands. To be fair, I don't mind if I set up a tent in my back garden, but if you expect me to bring fucking sleeping bags and a fire starter, I will in fact run away. So I can not be bothered to go camping. I would prefer to look at the stars from the comfort of my bed, looking through the window or standing outside for a sec while the kettle is on thank you very much.
Small Talk
I'm sorry but we need to normalise going straight to the deep stuff. And that doesn't mean "what is your star sign" because at that point I would walk away, but I mean instead of being like "the weather is crap today isn't it lol", why can't we just be like "What is your favorite childhood memory". I know that sounds creepy as fuck and I definitely wouldn't just go up to someone and say that, but like I hate small talk. It is so cringey and awkward and it very rarely leads to anything. We can hardly go like "yeah the weather is crap, but do you know what else is crap? The cats movie" and then go off on a whole tangent because to me it seems desperate. It is also awkward starting off small talk. I know it is kinda just to fill in the awkward silence but I honestly hate starting a small talk convo because you just be like "sooo… how are you" like what the fuck is that.
Raising a Child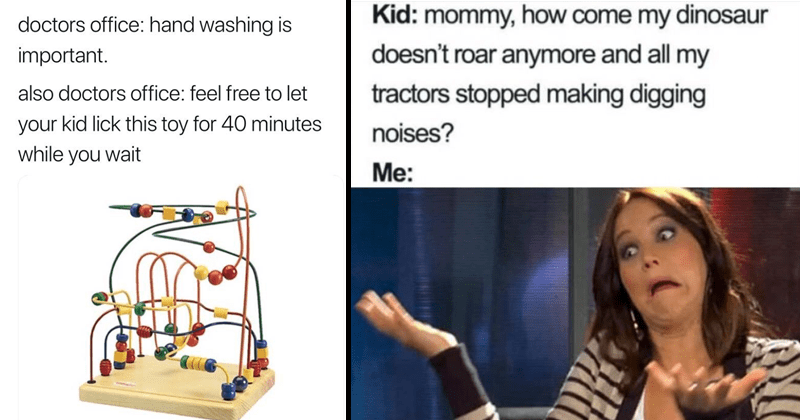 To be fair, I am a wee bit away from this happening to me… I hope, and my mind will probably change but does it not sound so scary to have to push a fucking human out and then one day they just kick you out of hospital and you and whoever your partner is are just standing like, what the fuck do we do now. This is the start of their fucking life. There isn't a big change in the world, sparkles and rainbows don't magically appear. You have to somehow understand what the baby wants by its crying, unless you are one of those people who can somehow communicate with babies or whatever harry potter, 6th sense, fairy-tale shit you have. And I'm really sorry if I am freaking out some pregnant person out there, I am sure you will be great, but like it could not be me. You need to make sure they are fed, they are breathing, they sleep, they shit everywhere, they get bored, they cry, they live. They are a freaking tiny human and you are making up a personality and a life for this baby. It sounds awesome but like what if they turn out like a prick. What if your child is a prick or just really annoying and creepy and now you have a literal annoying person living with you and if you say anything, they turn into rebellious teens and you are just waiting until they turn 18 but that is a long fucking time. But yeah, good luck to all the parents aren't there. At least society takes most of the blame for how mentally fucked they have become 🙂
Not Wearing Face Masks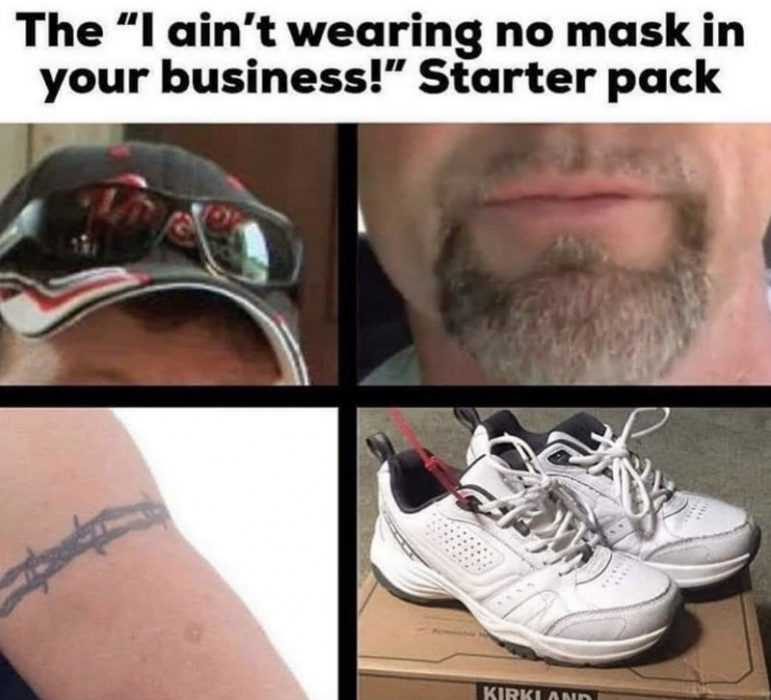 Despite the fact a lot of people are so dramatic with face masks and literally complain every second about how they "can't breathe" or "this is so uncomfortable", I kinda am going to be screwed when we don't have to wear them anymore because I do weird things with my mouth when my mask is on. I have a habit of doing that weird awkward smile all the time or just sticking my tongue out a wee tiny bit for absolutely no reason and also making tiny noises, but when I take it off I will have to remember that people can see my face and the weird shit I do with it and sometimes I can be quite expressive so what if in school someone I hate is talking shit and I just look at them with disgust and then see that I am silently judging them! I defo will be exposed but I think I'm ready for it. I don't know why but I always feel ready to throw hands at an annoying person if I needed to or just talk shit for a straight hour. Maybe if it leads to that, I can get some of my anger out and it will get better, yay! Watch me look at everyone with a rude face and start fights everywhere lmao.
Working In The Hospital
I was gonna say working as a doctor, but I feel like it doesn't give the other's justice because I don't think I could do any of their jobs. Like, when I was at hospital, the nurses were always so lovely and kind even though they had 10 old people arguing about the TV, 5 kids throwing up, 3 doctors ordering them to do things at a time and a partridge in a pear tree. They really do the most and are still happy but I cry if I burn my toast in the morning. That is a different type of hurt though. I am also watching grey's anatomy at the moment and, firstly it is awesome, but secondly, what the actual fuck. They just all seem to know everything. This guy could come in and cough once and they would be like "oh my god he has supercalifragilisticfeefifofumI'mgettingrippedtonight. And then they know how to fix it. How do they remember all that! Seriously though can any medical person please say how you know it all instantly and stay calm when you have to save people from near death and you know every detail and name of things. It couldn't be me. I would get stuck on how to pronounce a word and then not realise my patient is literally having a seizure right next to me. I respect you guys honestly. I also want to know if you actually do literal 48 hour shifts! Is that not literally kinda bad for you and also having to diagnose people. Do you not just cry at every single patient you see. Could not be me but thank you for volunteering as tribute *wistles*
Anyways, that's all I can be bothered with today in all honesty. Here's a bonus. Can I be bothered to do more? No, so yeah. But please do comment below if you have anything else to add, I always love seeing what you have to say, and make sure to like and follow for more. I hope you have a great day, stay safe and stay yourself PERIODT.
---
Hey guys, so this post is gonna be a wee bit shorter because I got acrylic nails on the other day and it is so fucking hard to type with them on so I will have to get used to it. I mean the fact I make so many mistakes with these really stresses me … Continue reading I'm Disappointed In Myself…
You guys have to agree with me when I say that a lot of things we do nowadays is heavily judged. Like there are a lot of things that people aren't willing to admit they do because people will laugh at them and call them a basic bitch or a pick me type of person. … Continue reading I Hate To Be That Bitch But…
We love a good self-deprecating post. It is kinda fun though because it is easy and I can say anything I want about myself and I won't offend anyone, unless you are literally the exact same as me. Multiverse?! But yeah, some of these things are kinda basic but, being a person with a typical … Continue reading Things That Make Me Feel Stupid (well, more than usual)
Make a one-time donation
Make a monthly donation
Make a yearly donation
Choose an amount
Or enter a custom amount
£
---
Your contribution is appreciated.
Your contribution is appreciated.
Your contribution is appreciated.
Donate
Donate monthly
Donate yearly
This is not a drill guys! I was called yesterday by a manager of a restaurant I applied for and he booked me in for an interview on Monday. Bitch when I tell you I am shitting myself, I am quite literally shitting it. I mean did I apply for it? Yes. But it is all too real now. They are all gonna judge me and be like what is this bitch doing. And if I even get the job, I won't be able to make friends with the other staff cause I can't even socialize! Like I am going to be so out of place and I literally won't be able to get everyone's food on time or hold all the plates or talk or write down quickly. I hope they got tablets for us because I don't think anyone could understand my writing. I have a literal doctor's handwriting after a 24 hour shift and 200 pages signed. Like it really is that bad.
I don't know why I am freaking out already though because I haven't even got the job and it isn't until Monday that I have the interview, but this is my first ever one. I don't know what to wear and like what if I dress up too much or too little. What if I can't hear what they are saying and I have to do that awkward shit where you ask them to say that again for the 5th time. Or what if they ask me a stupid fucking question that I didn't prepare for and it is just me staring at them awkwardly like "oh shit". I don't think I am cut out to be a waitress in all honesty. I had always been excited to start a job and earn some money, but now that there is a chance that could happen, I don't want it anymore. I am happy to just live on the streets. I'll sneak onto a cruise and go across the world. Or maybe I will make friends with some rich old man who will let me live on his boat and when he dies I can just sail away and never have to work. To be fair though, I am looking forward to tips though, and also if there are Karen's I can actually say something, to an extent I guess. Because when you hear them in a restaurant you literally want to shout over to them and say "watch your mouth bitch. It isn't their fault that they don't serve your great grandma's famous cheese sauce". I won't be able to say that but like I can say something a bit passive aggressive and slabber about it later.
What I also can't stand the thought of is being the new girl. Like what if they call me newbie for the rest of my life or if I make a mistake they will call me something like… I don't know a nickname for that but you get what I mean. I am not ready for that. They will all have their friends already too so I will just be that awkward girl who is sweating profusely and being really quiet. I don't want that. They could all be chavs too or like really annoying and it would be so awkward if it was just me and one other person just staring like "hey" with that awkward white person smile. I think that if I wasn't hired, I could never go back to that restaurant ever again because that would be embarrassing as fuck, like imagine me going in and then everyone is like "look at that actual idiot that couldn't even get into a crusty restaurant. It is a nice restaurant though but just for the purpose of this post let's say it is crusty. It is also gonna be so awkward because when I go in I will have to be like "hey, I am here to like take your job" and then they will have to lead me to the room.
Also when I was on the call, the man sounded nice and all but he cut out for a minute and then I did understand him but like I was panicking about what he could have said and then he said what time to come down and now that I look back at it I am scared in case I got it wrong. Like what if I go in and say "hey I am here for an interview" and they are like "bitch that isn't for another week" or "you stupid bitch, that was 2 days ago". Like I can't handle the embarrassment. And what if I go "hey I am here for an interview" and then they look at me like "ok? the fuck you want me to do?". I would walk right out to be honest. After the manager had called I literally sent a fucking documentary of a rant to my friends, pretty much like this, and because I am the first one to do this, they did fuck all and I was here like wow, so much help guys thanks. And some were like "oh my I'd be shitting myself". Yeah no shit. I also told them to apply for it and I don't know if they have yet, but like that would be so much better. It would be bloody awkward though if they got it and I didn't and now they are the ones alone and I am just standing awkwardly like "so… was it that scary". I also don't cope well under that much stress and people concentrating on me and it always shows as well. Like my face goes so red that it looks like it is about to explode and I sweat like a bitch. I slur my words and literally get sweaty ass hands, so if they go to shake it, they gonna be getting one unpleasant surprise.
So, if you haven't noticed yet, I am terrified. If any of you guys have any tips with interviews or being a waitress, that would be really helpful to hear in the comments. And maybe if you have any of your own stories or how you felt getting your first interview that would be great. Hopefully on Monday I tell you a success story, and not an embarrassing one because I may have to just leave this planet forever. Everyone always says to "just be yourself" but I don't like myself so why would anyone else?! I have the worst sense of humor so if I attempt a joke and they just stare at me, I am running out, or at least trying to with wobbly legs. Anyways, please send in any tips or stories, whether that is embarrassing, fun or just normal. I hope you guys have a great day, stay safe and stay yourself PERIODT
---
Ok guys, we aren't about to get into some existential shit today because I don't think I can take that at the moment, but I guess it kinda will be but like to a certain extent, so kinda just be warned about that but lets get started into it. This is another weekly reminder post … Continue reading It's All About Perspective
Lately, since the whole Logan Paul and KSI fight or whoever it was, all tiktokers and youtubers have literally been fighting for no fucking reason. I mean at the start it was fun you know, like it was new and exciting, like a relationship. But also like a relationship, they get old and you realise … Continue reading To All The TikTokers That Are Fighting Each Other…
Make a one-time donation
Make a monthly donation
Make a yearly donation
Choose an amount
Or enter a custom amount
£
---
Your contribution is appreciated.
Your contribution is appreciated.
Your contribution is appreciated.
Donate
Donate monthly
Donate yearly
Don't be expecting some type of soppy shit like "the ability to love" or "empathy" because this is not it bitch. This is the honest shit and it is especially relatable if you have siblings but maybe you do still understand. For context, I have an older sister and a twin sister and I live with my mum and dad, so yeah I can't really speak for those with younger siblings or those with brothers. Also, if you aren't a twin, you may learn somethings about what life as a twin is like but I mean you probably don't give a shit so I suppose we will just get into it lol.
Hearing
Do you guys get it as well where like you can tell who is coming by the sound of their footsteps and how they walk down stairs and like open doors or something like that because it really is a talent. It's pretty handy though because you know that if it is your mum or dad or an adult of some sort, you just gotta get ready for either a deep convo, shouting, or your dad coming to fix something. But then there are also the times where they just come up and say hi and stand in your room for a second and then just leave WITHOUT CLOSING THE DOOR and then you ask them to close it and they go running down the stairs like there sore back has suddenly fucking healed itself. And you just lying in bed like what the actual fuck. And it is extra random because my bedroom is on the third floor and they never come up unless they have too, but they just get a burst of energy to go up and move everything around. And then, if it is your sisters, you just getting ready to scare them or fight them, or laugh uncontrollably, or throw them out of the room. It really is a wild card to be honest but all of the choices are a lot of fun. It is weird though how you can tell people by their footsteps but I guess it is cool too
Thinking On Your Feet
You see, the thing is, when you have siblings you always want to get the last word, even if it doesn't even make any sense, but it has to make enough sense to not get laughed at. It is quite the skill but can get really aggravating after a while because how can you end something that nobody wants to finish? It is quite the puzzle but the things you come up with are absolute comedy gold, at some times anyways. But like it kinda gets to playground come backs where you are just like "no your the idiot" or like you mumble it under your breath so they think they won but really you did, and you also do this when walking away. This kinda ties into the super hearing as well because I could be upstairs and they would be downstairs and whisper "idiot" and I would hear them. Then you have the choice of whispering it back or screaming down the stairs "I HEARD THE YOU BITCH". The great thing about it all is that they never take offense to what you say. You could tell them they look like Donald Trump or some shit and then we would literally be on the floor laughing. The emotions change very quickly lmao
Reading Minds
The closest that you can come to relating to this if you don't have siblings is when you can look at your best fried from across the room and you just know what they are thinking. Like if the teacher is talking absolute shit and you just look over at your friend and they look back, it is pretty much that. An example of when this happened was when my dad was telling this absolute random story that sounded as though it was going to have a big shock factor at the end but it just was such a pointless story and then I was like "great story dad" and then he looked at me like I just insulted his mother and I just looked at my twin and we just started pissing ourselves it was so funny. I guess humor has changed a lot or something because he was not impressed. But like nowadays that is just how you talk to your friends. Sarcastically. So me and my twin were dying at how he found it offensive. Does anyone else do it where you walk into a room and your sister is there and you just stare at them straight in the eyes with a straight face for like a couple of seconds and then either just walk away or go like "boo" or scream or some crap. I feel like I am the only one that does that and it is a real bonding moment if you get me. Highly recommend.
Vigilance
I swear to god I literally gotta be James Bond in this hoe because you are never safe walking into another room. You never know when someone is gonna jump out at you and you gotta scan the perimeter as tough we were escorting a celebrity (I was going to say president but…) Like I literally check the crack through the door and I analyse every shadow and reflection. The biggest success is when you realise they are going to jump out so you scare them first. How the turns table. I get scared when I go out of the bathroom because that is the most vulnerable place to be in my opinion. And also you gotta be prepared for something else. This is mostly when you go in their room and usually only happens when you are younger, but you gotta look out for booby traps. I remember that when me and my twin were like 6 or something, my twin went into my sisters room to tell her dinner was ready and then a fucking encyclopedia fell from the ceiling and hit her on the head lmao. It is those moments that would make me a bad parent because I would actually be crying because it is so funny. Like absolute genius move. You can't take things too serious in this job. This job being a sibling. That was quite the funny moment though, but I have never had it happen to me. Maybe it is more of an american thing or something. I might have to give it a try. But surely it's a bit obvious like, if you were talking to someones door and there is just a pile of books and you can see your sister looking evil and about to laugh, I don't think it will work anymore. Guess we gotta find out. IT WORKED LMAO
Loyalty
That isn't really a superpower but I didn't really know how to word it. Basically what I mean is that you know when to pick your battles and you can change your objectives in a second. For example, I could be talking shit right in front of them, but if I hear anyone say the littlest thing, they will be body slammed by me. Like no matter who they are or what they say, I will be coming for them you know. Like the confidence comes from nowhere it's literally crazy. I myself am a socially awkward bitch, but you know I'm about to cause a scene if needs be. Can't nobody treat my sister with anything less than love. Don't test me bitches because it may seem like I hate them but in reality they mean the world to me and I will do what it takes for her to get the respect she deserves. So yeah, whatever superpower that is. Is it shape shifting? Or like a hulk thing where you just get all the power in the world? Who knows? Who cares?
Anyways, these are just a few of the powers you get when you are a sister. They can vary from family to family I suppose but these are the most relatable ones that I know. If there are any things you and your siblings do, or your family in general, go ahead and comment down below, I would love to see what you guys do and I might mention them in my next post. I hope you have a great day, stay safe and stay yourself PERIODT.
---
I feel like a lot of people will understand me when I say that there are things that people can literally just talk about and that makes you feel exhausted or just unmotivated to do that thing despite the fact you aren't even going … Continue reading Could I Be Bothered? | Part 4
Make a one-time donation
Make a monthly donation
Make a yearly donation
Choose an amount
Or enter a custom amount
£
---
Your contribution is appreciated.
Your contribution is appreciated.
Your contribution is appreciated.
Donate
Donate monthly
Donate yearly
I don't know if the american's are taking over our school or what, but they decided to do a wee school newspaper. I thought that sounded cool and I was interested in reading it, but on the front cover, there were a few things that got me thinking ya know. Just a few points I would have changed completely, just to bring the truth back you know. But yeah, lets get started,
At the bottom of the cover it said 'we wanted to give the pupils an outlet to express their opinions, interests and passions'. I just wanted to ask, who put the gun to that writers head because that was a pile of shit. Also don't worry, we haven't been fully converted to the american ways so I was talking about a metaphorical gun. Just so you guys know. Anyways, lets get back on track. From my many years of experience, school really has done fuck all for our interests and passions, and don't even get me started on our opinions. You should see their bloody face whenever we give our opinion on something. It is literally a scene from a horror movie. Even in English class whenever your analysis is basically 100% made up and what you think it is, there is still a right and a wrong answer. They could literally write a movie about how someone gave a separate opinion in English and then the teacher killed them with her stare. They seem so offended, but like you don't even know what the fucking answer is because they teach you fuck all. That isn't even a joke. My English teachers literally always say "this has to be pupil lead, ok. I can't teach you this, you need to do it yourself"… Why the fuck are you here then? Seriously? Because for the past 30 minutes I have been travelling into the darkest areas of my brain, just to figure out why the fuck they put a "and" in the middle of the sentence. The amount of shit I come up with really is worrying, but they expect us to know everything about the text, despite the fact we don't give a fuck. And that is the truth. My teacher was literally like "why does the host sing" and we were like, I don't know, and she was like "well obviously because he was part of a choir in the 1960's. That is so obvious guys, because it says in the book 'hello'. You really need to try guys". I don't even know what to say anymore because shit is flying everywhere, but there is not a fuck in sight. Do the teachers actually believe what is coming out of their mouth or is it a universal joke, because if it is, it isn't funny anymore. Why can't I enjoy a book of a movie without having to think of the word placement!
The title of the school newspaper is also called "the student voice" but like we aren't even talking about our opinions really and it is only a one off thing. They really said, "smile for the camera" and then throw us back in the bin afterwards. Like I 100% know that at the next open morning they will have a fucking field day talking about how they really wanted to hear our opinions and that they are such an accepting school, and all the parents are going to die for it. Then there is just us at the back, not taking any of the crap they are saying. It kinda makes me laugh though because we literally have no voice in anything. Yes they are good at asking us, but it goes in one ear and out the other and you can tell on their face that they don't give a crap what you have to say. You could be crying like "school is so stressful and I feel like it needs to be more organised with homework and tests and over all support with mental health" and they will give you the creepy smile and say "ok. Who is next?" as though we are a fucking McDonalds drive through.
I do have to admit though, my school (which shall not be named~Voldemort :0) is quite good to us. Most of the teachers are nice, once you get past 3rd year of course, and it isn't too bad in terms of school life. It isn't perfect but it is the systems fault and they don't have a lot of control over that part. They are fairly inclusive I have to admit and I am glad to go there… Why the fuck did this just turn into an ad for my school. Watch me read this on opening day lol. But yeah anyways, I just thought the newspaper was a bit of a massive lie which is a tad bit funny. I think if I were to write something in the newspaper I would write about something like "what do you do when you run out of fucks to give" or "how to dodge the bullshit". Those sound like self-help books that I wanna read to be honest lol, but I don't think my school would allow the inappropriate language. So sorry about that loves. They literally die over 2 earrings or if you have one strand of dyed hair, so maybe my taste in content is a tad too much for them at the moment.
Anyways, I hope you enjoyed this content because I feel this was quite the relatable one. Wish me luck also because I have my Chemistry and Spanish test today and I am supposed to be studying that right now, but if you read yesterdays post, you will know that I am right on schedule. Believe it or not, this blog is my way of trying to escape school so maybe I can make money from this instead, but we will have to see. It is fun anyways, so if I end up at a 9-5 office job I can just do this on the computer instead of actual work. Please like, comment and subscribe if you like this content and I will see you tomorrow with even more. I hope you have a great day, stay safe and stay yourself PERIODT
---
I have made a few story times in my blog. Many of which are so bad I will probably never show my face to you guys, ever. But, as I am never going to show my face, I may as well tell you some other times that I want erased from my mind and everyone elses.
School Hallway
This one has literally been burned into my mind and everyone reminds me of it at random moment, just as I forget about it. So it was in first year. I was waiting outside of Latin (I know it sounds so fancy but it was crap) and it was a really busy corridor. And for some reason I was leaning against the wall with my legs out a bit and then I ducking slipped. As is that wasn't bad enough, it was in front of a bloody teaser and they just looked at me with disgust and was like "get up of the floor". So as if it wasn't embarrassing enough being a first year, I had to slip in front of everyone smh
Little Fight
Right, so when I was younger, maybe p7 or something, I did karate. I was a proper pro so I went to competitions and at one point you had to fight someone, with gloves obviously, but that's besides the point. So my coach was like, can you fill in for someone in their fight, and I was like of course because 1, he could literally beat me up and 2, it was fun. So here I was walking to the fight and I was like where is everyone? I look down and there they were. Literal foetuses. I looked at my mum like "is this even fucking legal" and it was so bad. I could have inialated them, but I had no clue what to do and it was so crap. I quit not long after that lol
The Tea Was Too Hot
This moment was literally so painful. So my mum made us go and meet her cousin when I was like 12 or something. I was so awkward as a kid but when she asked me about my teachers I was now a literal extrovert because there was finally something I could say about. There was this teacher that was really strict and that people were scared of, it was a Latin teacher actually, and I was telling her about the teacher. She looks at my mum and goes " THE *teachers name*" and my heart dropped. Tell me why, out of the billions of people on this earth, this bitch had to be the teachers stepdaughter. So I just told her that everyone was scared of her mum. I can never forget this.
Zoom Call Disaster
Here I was, another day on online school. It was the last lesson before we got of for 1 week. So k was excited and exhausted you know. And by this point I was sick of the awkward silence whenever she asked something so I was like, I'm just gonna get this I over with. So I waited for someone else to go first and then I eventually spoke. No joke, someone else spoke at the exact same time as me, so it was just a second of us speaking over each other and I died inside. And I never spoke on zoom again.
Goodbyes Are Always Difficult
I think this was like 5 years ago, but I had been part of a club called 'Guides' with my friends. For Americans, it is basically girl scouts but sexist. They taught us to like clean and cook you know. But yeah, we wanted to quite, so at the end of our last guides holiday, they were asking us what we wanted to do in guides next year and we were like, we are kinda going to quit. Let's just say our timing was not good because they talked to us for ages and we had to spend the rest of that day, and the hour car ride home, listening to their passive aggressive comments. What made it more embarrassing was that when they were asking us if we were leaving, I was like "well we are thinking about it but probably we might 100% be leaving". Why am I such an awkward bitch?
Anyways, that was embarrassing so please feel free to comment if something similar has happened to you or whether you have other embarrassing stories. Hope you have a great day, stay safe and stay yourself PERIODT
---
Right so this isn't for all places of course, "not all trains", but for my experiences, everything I say here is the truth.
First of all, lets just mention how fucking stressful trains are. I mean I have to rehearse my order before I bloody order it and I still mess it up. They just look at you behind the desk as though you turned there day into shit and I just be like lol sorry. But here is the thing. Today I was on the train and I had bought my ticket at the train station and I had it in my phone case because it was clear. Then the wee train conductor was like can I see your ticket and I showed him my phone case. He had the AUDACITY to say "that isn't a ticket" and with proper attitude but I just looked at him like bitch you better shut the fuck up. I had to take it outta my phone and show it as though it was a hidden artifact. I mean he was such a passive aggressive child and I was like would I really be someone to make a fake phone case. I mean he thought he was such a detective.
And I don't know if they all bloody hate their jobs or what because they give you such a dirty look when you get money out of your wallet and they just sigh and act as though their life depends on the next few seconds. But then sometimes they just have mood swings and the next they are getting money out of their wee bag and making it a field trip because they be looking in their for ages and come out with like 50 p. They be making awful jokes and think they are the bees knees. I have to say that at some points you can get a nice one but they won't take your bullshit. They won't take the bullshit that isn't even there and you are just over thinking your life. They don't help with anxiety that is to be sure and you have no clue what to say because the utter crap that comes out of their mouth is something else.
Then when I got out of the train to go home, the doors closed a split second before a boy got to them and the train conductor was right at the door. The boy was literally like can you open this because he was a millisecond late and the man was right there and the guy was like no we can't even do that and was basically laughing in his face. Then the train drove off with plenty of time for that kid to get in. I mean they really aren't people persons and I don't know why they took the job. I also remember that one time I got a return ticket and on my return I actually ended up just going to one station after what I supposed to take and then the worker came up as the train stopped at the station I was getting off. I showed the ticket and I was like I need to get off now though. Tell me why this guy literally went off the train for our tickets and waited for like 5 mins to make us pay for it and then he bloody overcharged us and I am like, is there absolutely no human decency. And now, I know that there are nice train men because I have got a few nice ones, but there are a majority of them that are so scary and really just make my blood boil, and this is from a non-Karen. I am not complaining to the manager but these are just some of the stories that have just annoyed me to be honest. I don't know if it is because we are teenagers or if they all just happen to have a bad day but I get scared on them and I never seem to get it right. They be like our mums when they check if your room is clean and they literally check for every spec of dust.
But yeah, they are just a few of my stories from the train. Well, just today's stories actually but yeah. Hope you enjoyed this and feel free to comment below any train stories you guys have had. Maybe it is just NI but I don't know. Hope you have a great day, stay safe and stay yourself PERIODT.
---
When we grow up, we are told that doctors, teachers, lawyers and politicians are important. That, if we want to get an impactful job, these are the ones to go for. But I have been thinking lately, because a couple of years back I had been talking to someone working in my house and something clicked with me.
So, a cheeky wee story time guys. We had a man over who was covering up a huge hole in our wall and doing the plastering and stuff, whatever you call it. My mum made him a cuppa tea and told me to bring it up to him and, being the EXTREMELY extroverted character I was happy to help
but no, he was actually nice LOL. Anyways, so here I was, going up the stairs and I was like "tea question mark":o and he was like "yup" :/. But then as I was going down the stairs we were just having a wee chit chat and he was like "what age are you?" so I slapped him on the face and ran away because stranger danger. No, sorry I will stop with the jokes. But I was like "15" and he was like "do you know what you want to do when you grow up" and I was like "have a life". Ok sorry that was my last one I swear. I said a police woman maybe and he was like "that's good. Just stay in school so you don't end up doing plastering like me". And that is when it clicked in my head. I wish I had said this to him but then again I was like 30 years younger and half his height so I didn't want to look stuck up giving a pep talk to an adult. But what I realised is that he thinks his job is unimportant and that it should be avoided, but the thing is, if there were no plasterers, then everybody's house would go to utter shit. If we didn't have him to help us, my dad would have ended up doing a crap job at it and our house would be ugly as fuck (sorry dad). So who's to say his job isn't important but I know that I am greatful for his work because now our house looks nice again. Yes, maybe the whole world can't tell that but sometimes helping one person can make a big difference in their life.
And another thing similar to this is like when someone has to work at McDonalds or a store for the rest of their lives. Yes, maybe they may not have wanted to this, but we can't judge them for it because they make that business work. We couldn't have a shop without a cashier or someone to restock the shelves because nothing would go the way it is supposed to. They may not seem like glamorous jobs but they are so important. We kind of just gotta look at the big picture of things because a lot of times people don't realise how much someone means to them until they are gone. So if all the Tesco's workers disappeared, we would be freaking out because now we don't know where things are. We can't return anything, all the shelves are empty, people are stealing things, causing fights, there are messes everywhere. So whether you are a worker out there who feels like there job doesn't make an impact, just think of what would happen if you all disappeared. Let's even say you cut the grass for a living. If all of you disappeared, there would be gardens that would grow so disgustingly long that the street isn't pretty anymore. So many things are growing and crawling in there and they feel disappointed in their garden. But the fact that you guys are here means that people can look outside and feel proud of the place they live in. People driving by will see the street and think, damn, that is beautiful, right? And to those who judge people who don't have a typical 'important' job, just know that the job they do is obviously important and if we didn't have them we would really struggle, so have some compassion and thank them for their work because they are so important for how the community functions.
So I hope that meant something to someone. It really is true. Every job has importance and although it may be not be obvious at first thought, just think what would happen if your job didn't exist. What would happen? What would that change for people? How would the world look? No matter the job, people will appreciate you. I mean I still appreciate the plasterer even after a couple of years because no my house, my home, is comfortable and complete. Keep your heads up and don't let anyone put you done. Hope you have a great day, stay safe and stay yourself PERIODT.
---
Guilt is a complicated thing. It can show itself in my different ways, at many different times and many different places. However, what always stays the same is that sinking feeling in your stomache.
---
There are things you feel guilty about just because you are a normal human being and make mistakes. For example, if accidentally hurt someones feelings, or if you accidentally hurt someone by, for example, tripping them up. These things are so simple and usually insignificant, yet for some people it can largely affect your day. I can't speak for everyone, but I know that, for me, I wouldn't forgive myself for ages if I did something on accident. I always felt as though they secretly despised me for it, even if it was a small thing like I lost their pencil or spoke over them for a split second. And I feel this can be a positive thing in some ways until it occurs to much. I would make sure that I would never do that again and would make sure I was very careful, or I would try anything for that person to say that they forgive me. It helped my manners but I know that at some points it went too far, and for others, even worse. The feeling of guilt just sticks with you and it is an awful thing because you just need to get it away. People can end up being so overwhelmed that they live in a state of fear because they are so scared they will make a mistake. This type of guilt can be uncontrollably blown out of proportion yet seems so normal for others. I mean if you do something 'wrong' you should fix it. But at what cost?
And this feeling of guilt has been wound into us in so many areas of life. I mean in school they use guilt to make you work harder or act a certain way. Yes, it can seem harmless but depending on the child, it can change their whole way of thinking. I mean if you tell a child that their parents would be disappointed in them just because they acted in a certain way, will not only make them embarrassed but also guilty because, in some way, they have just done something their parents would be angry about. And in school they can drown you in accusations, like how you ruin the class for everyone and disrupt everyone's future, just because they can't live in that same environment as everyone. It destroys our confidence and eats away at us. I mean nobody like to hear that they have embarrassed their parents or to be responsible for somebody else's future.
Guilt is a complicated thing yet is so simple to use. There are so many people that manipulate you into feeling this guilt for something that isn't worth the worry or for something that you didn't even do. And people in abusive relationships, whether that be friendship or in a couple, they can control you with this because we the feeling of guilt is so horrible and debilitating because we will do almost anything to get it away. It almost acts as a shield from the truth as well because we start to over think all the little things until we believe what the other person says.They could say that you ruined their life or make them feel so sad, as a way to make you do certain things for them. And it would be hard not to believe those things because you want the best for them and would change yourself in order for them to be happy. Manipulation can target anything but guilt is a really strong feeling which almost always gets the job done and it is so sad because these people are being fed lies and their emotions are too strong for them to understand the truth.Guilt just blocks everything out from the moment you are in and leaves you vulnerable to so many things.
There is something that I feel guilty about at certain times of the year and I am not really sure why. It always happens whenever it is someones birthday, mother's day, father's day, or big holidays like Christmas. At the end of that day I always feel guilty as if they didn't have the best day or didn't enjoy it. I mean even if my mum does the dishes on her birthday I get really upset that she didn't have the day she deserved. I mean if happened this Christmas as well because everything was different, obviously, and there are some things we didn't do that we usually would like board games and then I felt as though that was all my fault and that I kind of ruined it for everyone, even though I didn't really do anything. And on someones birthday I just wonder if it could have been better and if I could have done something to change it.
Guilt comes in so many ways and in so many situations and for me it truly is one of the worst things to fail. And I mean it isn't always a bad thing because it just helps us to learn but I feel like, as well as everything in this world, too much is not good. I mean it can change the way you live, the way you act and the way to think. And it is hard to remember in that moment that it isn't the end of the world. I mean you haven't done the worst thing in the world and at the end of the day you just need to remember that so many other people have probably done the same thing and it most likely won't affect you in the future.
One of the things that made me feel the most guilty was by accident and literally was such a coincidence. So I was playing with the Nerf rebel guns because, well I was just that damn cool, and I was like 'do you know what would be so cool? If I did a diving shot'. So I did, I hid behind the jungle-gym, loaded the gun, and just dove and pointed the Nerf gun in his general direction. My luck was not having it that day and I shot him in the eye. Literally I don't know what the chances of that happening was and to this day I cringe and feel so guilty about it. He didn't go blind or anything and nothing bad happened but I felt so guilty because obviously I didn't want that to happen. Let's just say I never played with a Nerf gun again. Jeez, even typing this makes me want to literally die. Also, if that kid is reading this, I am so sorry, but I mean at least you can read.
But see, we all make mistakes and sometimes it is the accidents that feel the worse. We just need to slow done for a second and forgive ourselves if we know we didn't mean it. It is also important to learn how to tell if people are making you feel guilty for no reason. If they are just trying to control you because it can be really dangerous and you don't deserve to feel the guilt they made you feel.
Thank you so much for reading, please like, follow and donate some money if you can, I really want to keep all of my content free for everyone. Check out some of the deals I have and also this money making app that I use. Hope you have a great day, stay safe, and stay yourself PERIODT.
---
Make a one-time donation
Make a monthly donation
Make a yearly donation
Choose an amount
Or enter a custom amount
£
---
Your contribution is appreciated.
Your contribution is appreciated.
Your contribution is appreciated.
Donate
Donate monthly
Donate yearly
It has been a week since I posted the part 1 so go check that out now and come back to this one after, I mean if you want, I guess it doesn't really matter. Here is the link anyways – Part one. Anyways, let's get into it. Last time I talked mostly about the teachers and the other people in the school, this time I am going to talk more about the work and tests.
Homework
Right, so when going from primary school to secondary school, you are gonna see a bit of a change. There won't be any cut 'n' sticks, or any colouring in. It'll be more like essays, tears and bullshit. I remember when I was in first year and I was guiding some parents around for the new year coming in soon and they were like 'so what would you say the homework is like in first year, is there a lot? Is it hard?' and I just looked at them like what the fuck am I supposed to say to that :/. This was the quickest I have thought in my lifetime, and I was like 'it's alright. I mean of course there is more than in primary school but the teachers are understanding if you have an excuse to hand it in later'. Bitch my acting was on point. That whole line was as fake as the girls in my year. I mean I was impressed by myself. Although don't stress guys, it is literally the first year and they only put stress on you to see how good you really are. To be honest, a majority of them were drawing posters. Like no joke, the amazon rain forest was quaking with the amount of paper I had to use. So I guess it is a transition period in terms of homework. Personally I would recommend to not get too stressed about homework because as long as it hand it in on the day, they will think you are great. And besides, if you don't do so well, it won't go towards anything. Just use this year as a way to find out who you are and how you work best. For me, and this is gonna sound nerdy, I do my homework the day I get them. I have done that since the day I started and it helps me not get too stressed and I definitely recommend but I guess it depends on your lifestyle. As you can probably tell, I was not too social but we move.
Exams
I am gonna have to be honest, the first year exams are not as laid back as the 2nd year ones. This is only because in the first year you kinda want to make an impression but in 2nd year you don't need any of the grades and nobody really cares how you do. And you need to know that the first year stuff may seem really hard now, but trust me, in the future you will know it like the back of your hand. By third year, I didn't even have to look at the first-year stuff because we did it so much. You will get sick of it, to be honest, but you gotta do what you gotta do. For me, I was stressing for all of the exams and literally was too worried about them. If I could tell my younger self something I would definitely tell them that your social life and mental health and 100 times more important than schoolwork. I mean you can't be good at everything. A few bad grades don't mean anything, especially when you are having a fun time. Anyways, on exam week, I do have to tell you, the school feels like a completely different place. I mean I would come into school as though it was my first day again and I was proper sweating as though this determined my life. By the way, it does fuck all for your future. Oh and also, I don't know why but no matter how much you eat on the day of the exams, your stomach will be rumbling or making weird digestion noises. Yes they are very embarrassing and in third year I would literally be shaking the whole room. Don't ask me why that happens but just know that it happens to the best of us.
Class Work
OK, so for the last comment in today's 'what to expect', let's talk about the actual work in class. Here is just a pre-warning. Your back will become deceased. Maybe not at the start of the year, but at the end you will have back problems so make use of a locker if you can. It may seem inconvenient but use it because all the older years who may not get one are very jealous and, to be respectful, I would use it. You will miss it when it is gone. Chances are you will also get folders for all of your classes, and yes this will make you feel very grown-up, but don't let it get to your head. Holding them in your arms, even though you have room in your bag, does not make you look cool. When you are older you will get massive ones called lever arch files that actually way a tone and you physically can't put them in your bag. Trust me, we don't want to be holding them, and we won't judge you for not holding a file, I mean, if anything, we envy you. But to the actual work now. The things you are learning now are gonna be retaught for at least the next three years of your life. You can take that as a reassurance that it doesn't really matter if you don't understand it now, or you can just take it as a warning for boredom. You will be learning stuff on top of that obvious but they will be talked about a lot. A majority of the work is OK but I think the hardest thing is that you have so many more subjects than just Maths, English and PE. For some, you will find awesome subjects that you love, and for others, you will find subjects that you detest and sleep in. That's OK because you are just trying to find the ones you are interested in. In my first year of school we had to do Latin, don't ask me why, but I would nearly cry every time from the sheer boredom. I mean I find a lot of subjects useless already, but learning a dead language was next-level pain. So overall, I just want to get you to know that, this year is going to be scary and hard for a lot of you but please don't get too scared because when you look back on it you are gonna laugh at all the things you thought or did. Let yourself make those mistakes, or memories as I like to call them, and just remember that it will all get better. And take that from me, a person who had a really really tough time in my first year. If you wanna read more about it you can read it here. This year will pass and it will be different for many, but no matter what you know or don't know yet, you will eventually catch up with everyone. I remember we would do wee quizzes that everyone did well in, everyone except me, but the first year, I would say, is mostly about getting everyone to the same level. Try not to get too stressed and know that you can comment any struggle you are having, or have had, on this post, or dm me on Instagram @periodtblogs
Thank you so much for reading this. Don't forget to like, follow and donate some money because I really want to make all of my content free for everyone. Also go check out the discount codes I have for awesome shops. Hope you have a great year in school and try not to fit in too much, just be yourself and others will follow PERIODT.
---
Make a one-time donation
Make a monthly donation
Make a yearly donation
Choose an amount
Or enter a custom amount
£
---
Your contribution is appreciated.
Your contribution is appreciated.
Your contribution is appreciated.
Donate
Donate monthly
Donate yearly
Why does this make me sound like a viral blogger. Part 1 lol. There are many things that you learn when you go into high school. Some expected things and some… unexpected things. And now you are gonna learn about some of them in the form of a story. Although I wont tell you everything because there are some things you need to learn for yourself.
---
The Hard Truth
So when you I went into high school, I think it would be accurate to say that I became very self-conscious. I mean, at some points I felt completely ignored, and at others I felt like I couldn't get the eyes of me (p.s. I know they weren't looking at me because of my looks, trust me). Everyone looked like an absolute giant and it was weird because you came from being the 'old, mature' ones in primary school to being the 'weird, tiny' ones in high school. My sister had been in 3rd year by this point, so therefore she was in the last of her annoying years. (yes there are the annoying years 1,2 and 3). But I would be like why are you always so mean to me in school. Like I would literally walk to my class alone or breathe near her and she would shove me and laugh at me. Now, don't expect this from everyone, don't worry, it was only that she is my sister so don't worried about being pushed… on purpose anyways. Me and my friends always would play out in the 'playground' as though it was still primary school. I mean we never ran, we knew that much, but we had different phases of just being loud and obnoxious. At one point we also played with bouncy balls, yes I know, don't judge me. But that was what everyone, in my year, would be loving. And there is a 1st year garden that is literally the worst thing. We thought we were all so special because we had our own private area. No. Just no. It was technically like a zoo exhibit. Everyone looking in at you. And no, they are not jealous. I am now in 5th year, nearly in lower 6th, and I know now that everyone in any of the years above will not like you. Now I am sorry to say that and it is nothing personal, it is just, stereotypically, 1st years are bloody annoying. Like, it is just something about them. No matter what they do, breathe, walk, look at you, you just find it aggravating. But the good thing about that is that you can use it to your advantage. No matter what you do, they will find you annoying, so, just use this year to do what you want and learn what is 'acceptable' in your school. It is different for every school but there are certain things you will get bullied about. But don't worry that people will remember what stuff you did because they wont remember. They all have better things to think about, well, unless what you did is really embarrassing, but eventually nobody will really care. As long as you start to mature and know your place in the school, the others wont bother you and will start to judge the new ones. And trust me, you will look back on yourself and be like, I cannot believe I did that. How was I not beat up? But then you laugh and move on. So does everyone else. I can't really remember a single embarrassing thing anyone else has done even though everyone has done something. So use this year to your advantage I suppose and try not to take anyone too seriously. They don't know you so it isn't personal.
Have I Mentioned The Teachers?
Damn, this one is tough. You know what, I could probably just cut and past the last paragraph. I am sorry but… the teachers hate 1st years too. But it is so funny because some hide it better than others. One of my math teachers would shout at us so much. No matter what we did, she would hate it. But then one day this 5th year came into our class and was having a conversation and asking what she would like for lunch as though they were best mates. I swear to god that woman changed in a flash. I watched him leave in awe. How the hell did he like her? How did he not get shouted at? And this was one of the teachers who puts their had on their desks, looks up slowly while taking their glasses of and screams. Yup. I was so shocked. But now, I don't have her as my teacher, but some of my friends do and they literally say she is so nice. Like it is so weird. It is as though 1st years give off a bad smell, which you don't, that just makes everyone mad. It is funny. My geography teacher is the nicest man on the earth and he gets on so well with all of the older students. But you should see him when he talks about the 1st years he just had. Like he just looks so frustrated and for no reason. And then for the teachers who seem like they like you. Maybe some of them do. I am sure there are teachers out their who like 1st years. But look, when you get older and become friendlier with the teachers, they tell you stuff. They just show another side of themselves that you never saw a few years ago. I remember my class was talking to a teacher once and they were saying how they can't handle the 1st years and we were like 'awk, well you loved us didn't you?' and she just made a face and moved on. Yeah, it really hits you how annoying you used to be. But I guess it is probably because you are still wired to the primary school way of living, and trust me, they didn't teach primary school for a reason. It may take some longer to get wired to the high school life, but you'll get their eventually and you wont be so scared of some of the teachers. Did you know they actually are humans too and actually are funny and kind :0 ? Wow, who would have thought.
So that is all I am going to warn you about today, but make sure to like and follow so you don't miss the next parts coming out soon. Trust me, you will need to hear this. But just remember guys that everyone goes through this and it is all part of the process. Please donate some money to keep my content free for everyone and enjoy everyday as it comes because you don't realize you are in the good days until you have left them PERIODT.
---
Make a one-time donation
Make a monthly donation
Make a yearly donation
Choose an amount
Or enter a custom amount
£
---
Your contribution is appreciated.
Your contribution is appreciated.
Your contribution is appreciated.
Donate
Donate monthly
Donate yearly