To any foetus child out there who is like what the fuck are genes, basically they are the characteristics that we get from our parents and they make up who we are and what we look like. For example, I inherited my dad's white ass Irish skin which burns like a bitch whenever a bloody tea light goes within 1 mile of it. So it's not ideal. I also inherited his lack of eyebrows which shocked me, but you couldn't tell because you couldn't see my eyebrows expressions. I slightly blame my twin for that because, although it is probably scientifically impossible, I believe she robbed them from me in the womb. Unfortunately that doesn't stand well in court so I never got back what is rightfully mine smh
I do have blonde hair which really is the only thing going for me but it is going darker and I resent that but it is what it is. Oh and I forgot to mention, I swear my twin stole my teeth because I have two missing and she's a bit sus if you ask me. She isn't little miss perfect after all. When she dies I swear I'll find a long note releasing the truth. I don't know why she would do it but like it meant that for 13 years of my life I looked like your crazy young cousin whose only personality trate is losing their teeth. And now I have fake teeth that I sometimes think will fall out. IM FUCKING 16 YEARS OLD YET I'LL LITERALLY HAVE FAKE TEETH DRILLED IN MY MOUTH AT 18. I remember one time when I had to put my fake teeth in my retainers and one day I forgot them for some dumb fucking reason and I was like dad we need to turn back and he was like no. The trauma this man caused right then was astronomical but he didn't give a shit. I kid you not, I had to spend that whole day trying not to smile with my teeth or talk to anyone but then in one of my classes I forgot and smiled at someone and they looked at me like what the fuck and then was like "where have your teeth gone". Keep in mind I was 13-14 so all my teeth should have fallen out and grown back so it was weird. I also regret this moment because I could have pranked them so easily by acting scared and going "oh my god where the hell did they go" but no I had to really say "I forgot them at home". I FORGOT THEM AT HOME! What the actual fuck. No teen should have to say that they left their teeth at home. I am still recovering from that chat.
But back to what I wanted to talk about today. My pale ass skin. I kid you not, I only have two different options. White as fuck or red as fuck. Yesterday I thought I would switch it up a bit so I got burnt to a crisp. I regret it. Why do I never learn. I literally thought I could wish my way into going tan but instead I look like a fucking stop sign. It was dumb how it happened though because I must have forgotten to put suncream on like half of my legs and I didn't realize. Like I knew my attention span was shit but I thought I could at least pay attention to this. So I had work after and I was basically cooking the meals on my legs cause they were burning so much and then when I took them off later I thought I was turning into Elmo because those bitches were RED. I basically bathed them in aloe Vera and cried because I am now currently on the way to a beach where the general public are and they can see my bright ass legs. Everyone also seems to have to point them out. Like just when I stop thinking about it someone needs to pop out from the sky and go "OH MY GOD" literally like Janice from friends "YOU ARE GLOWING" and I look at them like no shit Sherlock. I didn't realize that my legs could double as a flare to attract planes and a heater to toast our sandwiches. Leave me and my burns alone. And of course my twin fans. That cheeky bitch. How did I get the pale skin, invisible eyebrows, missing teeth AND the mental illness 😮
Anyways that is the post and I'm glad to get that off my chest. Please feel free to comment some things you inherited from your parents or whether you relate to some of the things I have. Have fun in the sun and don't forget suncream bitches. I hope you have a great day, stay safe and stay yourself PERIODT
I'm not someone who is overly confident, or confident in any sense of the word to be honest, but I have found that there is something that people say when I first talk to them that instantly makes me want to get to know them and be best friends. I have also only really recognised … Continue reading The Method Guaranteed To Make a Lifelong Friend
I know that title makes me sound like I'm fucking ancient or some shit but like I am only 16. To be fair though this is me nearly becoming an adult and like is one of the biggest changes in life so I suppose I can talk about growing up. The difference between me now … Continue reading Growing up: Expectations vs. Reality
I'm in lower 6th and yes I have only been so for about 3 months but the thing is that I didn't even know if I wanted to go back to that hell-hole. The only reason I did go was because I didn't know what else to fucking do and I have FOMO so I … Continue reading Is 6th Year Really Worth It?
Make a one-time donation
Make a monthly donation
Make a yearly donation
Choose an amount
Or enter a custom amount
£
---
Your contribution is appreciated.
Your contribution is appreciated.
Your contribution is appreciated.
Donate
Donate monthly
Donate yearly
Bro if you came here looking for fucking pictures where one blade of grass is missing from one photo, you clicked on the wrong post. This is just a cheeky wee story time about how times have changed between summer when I was pretty much a foetus and summer now. Because there is a lot that changes surprisingly enough and I just want to bring that to your attention because… why not? You know so like sorry to disappoint the 5 year old that was looking for a fun time spotting the difference between 2 pictures of a tiger, but like, that's life bro. Things aren't as they seem 😮 *X-files theme tune*
That was a bit weird. But anyways, let's get into the differences of childhood summer and present summer. I remember that when I was in primary school, on the last day of school you would be saying goodbye to your friends and saying things like "see you 2 months" and "I am going to miss you so much". Like bitch this isn't the end of the world. I mean it isn't like they are about to vanish into thin air. It was such an emotional time. But now, we just look at each other with emotionless faces because we are literally all depressed and then be like "ok bye. See you tomorrow?" and they will be like "yeah" and then you walk away and keep talking on snapchat. There is no crying or waving or any of that crap. That is a good thing I guess but like kind of takes away the fun of it. Leaving in primary school was such a depressing thing and school was such an amazing time. But now our whole life is depressing, and summer is just a little less depressing. How the turns table. Pretty much, the best way to describe it is as though primary school was high-school musical. Everyone would be jumping around and singing as though we just had a line of crack, we'd all be screeching "what time is it! Summer time!" and acting like our lives were about to change forever. But like, in high-school, it is still fun and the atmosphere is different, but now it is kind of like an "every man for themselves" situation because all the rugby lads are throwing things and ramming into things, and then sometimes there may not be enough sweets to go around everyone so it is a literal war. And if anyone dares to sing or dance, they get slammed in the head with a dictionary. That's always fun lol.
Something I really miss from primary school though is when, usually on the last day of school it would be a "none school uniform day" and the night before that was absolutely banging because you would pick out your best Minnie the mouse top and your best heelies and then you would lay them out like you would wear them. You'd have the top spread out, the shoes, the pants, the trousers or whatever and it was so exciting. I always would love waking up and getting into my perfectly laid out clothes. Why did we literally find every little thing so amazing? I kinda miss it though. Now, for me, we don't really have non-school uniform day and even if we did, I would just picture what I will wear in my head and then probably change that 10 times in the morning along with a few mental breakdowns here and there. It's a process I would say but it doesn't happen that often. The thing is, back then we wouldn't give a flying fuck what people thought about our clothes. We thought that the literal unicorn barf aesthetic was the best thing in the world. Now it is really tense and awkward wearing our own clothes and you just kinda wish you weren't even there. Or at least, that is how I feel. Some people are more confident than others I suppose. I miss having that excitement every night and not being able to wait to go to bed because it meant you would get to that day faster. LOL that's depressing
Yooo, I literally just remembered something else from summer during childhood. This was whenever you were going on a trip or something, and my mum would bring us to Tescos or something to get us a magazine for the plane and it was so bloody exciting. We never got them except for plan trips and we could get whatever we wanted. I would spend my time looking at each and every one of them, when in reality I was looking for the best toy. I didn't care if the magazine was absolute crap, as long as the toy was the coolest. And then we wouldn't be able to open them until we got on the plane which was a few days after so you would get more excited to get the magazine than to actually go on holiday. Or at least that was what I felt. It was such a gift, to get a £2 magazine with a plastic toy that did fuck all. And now, nobody even reads magazines anymore. At most I bring a book, but there is no excitement attached with that. I usually just go on my phone and listen to music or something and just wait to land in whatever country it was we were going. And sometimes you would see another kid getting handed their magazine and they look so chuffed. But that isn't actually as common anymore. Usually they just get handed their iPad and I kinda feel bad for them. Although it is exciting to them, they missed out on a huge chunk of what was so thrilling as a child. I know that I probably sound like an ancient old woman, but I am literally the last generation to not have all the technology growing up. And I am glad because most of my favourite memories are from times where I didn't have an iPad or anything like that. Like when I was big into reading and would be brought into so many magical worlds, or whenever I would play outside with my friends making potions and playing mums and dads. I miss it I suppose but I am too old for that now and I have little to no imagination.
That actually turned out to be quite the depressing post. I wanted it to be more comedy like, but how can you make such an emotional realization and change into something funny? I am glad that I did have a good childhood and I am so lucky to say that. At least I have that to remember now, during my shitty life as a teen. Comment down below what you guys did in your childhood. What made you the most excited? What do you miss the most? What do you think about kids lives now a day? I'm interested to hear what you think. Please like and subscribe if you liked this kind of content and I will see you tomorrow for more. I hope you have a great day, stay safe and stay yourself PERIODT
---
Make a one-time donation
Make a monthly donation
Make a yearly donation
Choose an amount
Or enter a custom amount
£
---
Your contribution is appreciated.
Your contribution is appreciated.
Your contribution is appreciated.
Donate
Donate monthly
Donate yearly
All of the things I am about to mention are 100% true. Every. Single. One. So buckle your seat belts because this is one hell of a fucking ride.
English
So, it's the first day back at school. We have English 4th period and we are getting ready for the inevitable "motivational speech". And, like clock work, she came in and started the speech. Blah blah corona blah blah tests blah blah you aren't even going through that much blah… Wait a damn minute! Did she really just end the talk telling us that the things we are going through aren't even that bad? Yep, she did. To widen your view of the situation, she basically said that, although what we are going through is different, it is basically what we would have been doing anyways, but this time we are allowed more information on what is on the exams and they are more spread out. So pretty much, we got it lucky 😮 When I tell you my stress skyrocketed, I mean it got to fucking Mars before that bloody rover did. So make it make sense? You say that our situation is different. Yes, that is at least something you got right. There hasn't been a global pandemic since, hmm, 100 years ago? You also mentioned that we would have been going through the exams and stress. Yes, exactly. But due to our "different situation", there is an added stress there, not including the other mental health problems that came with it. And to mention the point about the fact we are getting more information on what is on the exams and that they are spread out more, I have a few things to add to that. Lets, re-write this sentence a bit, but, add the truth to it, ok? We are getting more information on what is on the exam because the things we have been told have been thrown around like a basket ball and, unlike other years, we literally have no fucking clue what the hell we are even learning. And they are spread out more because, well, they have been brought forward a few months, with little warning, little help, little to no motivation, and little understanding of the actual information because what is the point of knowing the topics that will be on the test when we don't know the actual information in them. I definitely think that is a better way to word it. So never say that what we are going through this year is any less than the shit show it is, because you really have no fucking clue.
Primary School Teacher
This is from ages ago and I don't really remember what teacher said it but it is literally hilarious. I just backs up my point that some teachers just really aren't meant to work with kids. This bitch said "the only reason I chose to be a teacher was to shout at kids". Now, I don't know if she said that ironically because we were misbehaving, but my class wasn't even that disruptive. Looking back at it now, it is so funny, but at the time I know that I was so shook. The thing is, if she said that as the truth, then what the actual fuck because you definitely need a different job where the mental health of children aren't in harms way.
Chemistry
So, I don't know what it is, but pretty much every school has this same problem. The one where the teachers literally worship the loud boys in the class and literally despise everyone else. So let me tell you one time this happened to me, a girl. I was at the front of the class with my friend, so you already know it was gonna be a good time. The whole class was chatting, all waiting for the teacher to start and when she did the class settled down and I think I laughed for only 1 second after everyone was quite, but obviously that was not acceptable. So we were told off once. Later on I was confused and asked my friend what page we were on. She answered, obviously, but again we "broke the law" and we were told off a second time. So we stayed quiet for a while and later on when she left the room for a bit we all started talking and she came back, but basically everyone was still talking. Well, all the loud ones. And it was basically all just a whisper and I must have laughed one decibel louder than everyone else because she was not happy. That came the third time we were told off and she made us move seats. I think that for every time we were told off, an average of 7 boys were talking at the same time. But where they told to be quiet once? Nope. So I don't know if she has a grudge against me or what, but all I know now is that I have once against her.
LOL, so these are all the ones I can remember at the moment. I know that these are only 3 but like I honestly could not care less. Maybe I will say more later on. But that first one, am I right?! I mean what utter bullshit. I really hope these people won't read this but even if they do, maybe they will learn a less. Comment down below any time a teacher said or did something that made your blood boil, I love to hear more stories like this. Hope you have a great day, stay safe and stay yourself PERIODT.
---
Key word here is survive. You wont enjoy it but you will at least make it through the day, I hope. So here it goes, and to all the people in school, good fucking luck, you are gonna need it
Empty space
I really like this one and it is really easy. So while your teacher is talking about how much they hate online school, all you are gonna do is stare at the wall. Now, make sure it is at a place where nobody would think you are staring at them. Maybe look out the window, and then just zone out. It is quite relaxing if I say so myself. You can kind of hear the teacher but you are just listening to the random thoughts in your head and you just forget that you are sitting on a chair made for someone with no backbone.
Internal
So while your teacher makes the joke about 'it is great to see your faces again, or at least half of them', just scream. Not outwardly of course, but like in your mind just have a rant with yourself. I find this really therapeutic but just don't let it get to the point where you want to cry with anger because that would be a bit embarrassing to be honest. It also means you wont actually accidentally say it out loud and it can get quite intense in there. I just think about how much I bloody hate school with all my heart and how none of this even matters and life is a joke. But you can decide what you want to say.
Meaning Of Life
This may get a bit dangerous for some people, but as a way to look interested in the subject they are teaching, it is really useful. So while your teacher asks the class a question, nobody answers and they say 'are your mics muted' all you need to do is just think about the fact we are in the middle of nothing that is growing into something constantly and we are made out of particles that have been alive for all time and the fact that matter can't be created or destroyed except it had to be created at some point because how could it of just appeared from nothing. I do scare myself sometimes but it helps me to not give a shit.
Draw
My skills have actually become immaculate, well for modern art anyways because this shit be looking like a 5 year old did it, but who cares. So while your teacher is secretly drinking wine in their coffee cup, all you need is paper, pen and boredom. These 3 things really go well together. You don't even have to know what you want to draw, just draw fancy scribbles until you see something you could make out of it. Kind of like trying to make sense of the mess that is our life.
Experiment
This is an interesting one. While your teacher is talking about how much they care about your mental health while they hand out a massive tests, what you want to do is really focus and see if someone can hear your thoughts. This is quite a difficult one though because you need to do it in a secret way because if you say 'I want to see if anyone can hear my thoughts' in your head, then they will hear it. So just scream at random moments to see if anyone jumps. So far, nobody, but is there hope, no.
Anyways, this is basically all I can do to keep me awake during school. Kind of just controlling my fall to the deepest pits of hell, I am nearly there though lol. So yeah, if you liked this content please do follow and like. Hope you have a great day, stay safe and stay yourself PERIODT
---
OK so don't even be judging me for wanting to make a wee bit of money. I mean I just want to get out of school and not literally freeze to death. What I also want to do is help you guys do the same. Now look, you aren't gonna literally make millions from one of these, at least I don't think you can but if you keep at it you could probably make a good wee bit. I know that I am gonna keep using them so, yeah. Also I would like to add that I am an affiliate for some of the links in here and I will get a wee bit of a commission, just so it doesn't look like I'm coming for your money LOL
Fiverr
You guys might have heard of this, but it's a wee app where you can literally sell any service you can provide. For me, I sell my voice. LOL this ain't no little mermaid shit, it is just that I will do audio books and stuff like that. But no, it is good and it feels very professional although it is still really easy to get everything filled in. But there are so many services you can sell on there. If you know a different language, computer software, website building, designing, logos, or anything like that then you can already start selling, and that is only a small part of it. There are so many other things that you can sell. I will leave a wee pic for you to click on and you can get onto it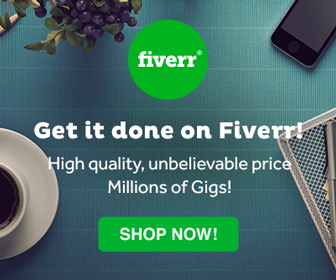 Affiliate Marketing
The first question is, what the hell is affiliate marketing? And what I can tell you about that is it is kind of exactly what I just did. It is where you join an affiliate position for a brand and you just promote their product and website. And like I said on the first paragraph, I do get commission if someone were to click on it. I just like to get that across so that you guys can trust me and know that I don't want to steal your money, I would rather direct you to someplace and get a few benefits off it. It is basically just suggesting things to people but you actually get payed. On most websites all you need to do is scroll down to the bottom and there will be the word 'affiliate' and then all you need to do is sign up and post these things where others can find them.
– Amazon
One of the programs I am in is in Amazon and that makes me sound all fancy but anyone can do it. It is really simple and you may have seen some on my other posts where I leave a link, sometimes those things are affiliate links but other times there aren't. So yeah definitely go check out the Amazon one because it is one of the most well know and trusted websites. Just click here
UserTesting
This is a really great website where all you need to do is record your voice while you review a website. So literally you just say what you think, just anything and they pay you for it. There are ones which can go to $30 to $120 but those ones you have to do on a proper face time, so I just do the ones that are $10 dollars, and that is like £6.50 which is pretty good for only 10-15 mins of work if you ask me. Click here to get to it. You can get it on your phone as well so you can do tests whenever and wherever. Definitely a good one for those on their phones all day anyways.
Blogging
Look, I know you are all probably crying at the screen saying "I thought you loved us!". All I have to say is that at the start I was like, lets make some money, but then I was like, ya know what, this is quite fun. Totally not because I already put in money for this and can't back out. LOL please trust me when I say I was joking about that. I actually learned that I really enjoyed this stuff because I can write about anything on my mind and whenever anyone like my posts I just get so motivated because somebody actually was interested in what I said. We all feel like we are too weird for this world and, maybe I am, but there are others out there who actually do want to hear what you have to say and it really is rewarding. I use WordPress for mine and you can use whatever you want really. You might not actually make any money off it, I know I haven't, but it inspires me to find other ways of making money so that I can keep doing this instead of some boring desk job, although technically I am at a desk right now, but that's beside the point.
Read
Ok, you guys definitely think I am some type of English freak. I am not I swear. I haven't read a book in ages, but then I heard of this book that helped people to be financially stable and I was like, well what have I got to loose. £13 to be exact. But so far it has been worth it and although yuo may be like, how will a book make you money? Well, Karen, this book will teach you the skills to use and make money, so if I didn't have it then I wouldn't have that knowledge or ability to make money, so there is your answer. I would consider it an asset for my future, which you would understand if you read the book. But I am gonna be nice and give you a link to that book. Just click this pic and you can get one ok!
Feature Points
I have just started this and it is one where you just submit surveys that you don't have to record anything, just answer some questions. It is a simple points system and depending on what you do you can get a certain amount of points which can give you money on paypal or for different gift cards, it is quite good I have to say. Again I haven't used it for too long but it is professional and I am gonna keep using it for sure. Just click on the pic and you can go try it for yourself.
Honey Gain
I have actually talked about this before. It is literally the easiest way I have made money. You definitely are gonna think this is a scam, but all you need to do is sign up and wait for the money to come rolling in. It is a source of passive income and I don't know how to explain it without it making it sound sketchy but it is so great and yes that literally is all you do. Click below and you can get started, you'll thank me later
Domains
I haven't actually made money off this yet because it takes more time, but what you do is you go to a site like godaddy.com, you buy a domain for around £10 and then you sell it for more. This can be a bit risky but I have heard of some money who make piles of money from it so I am willing to take the risk if I am honest with you. It does take longer but you don't actually have to do anything which is great. You know what to do by now, click on the pic
Sweat Coin
Do you ever go on a walk and think to yourself, "I need payed for this". Well, it's all sorted for you. Just get walking and your steps with actually be worth it. I suppose it could save the environment. I mean just walk and get money while you go to the store or wherever you need, without using your car, so, your welcome world. Click the pic below and you can start
Poll Pay
Ok I think I just found one of the best survey to money apps. This isn't an ad by the way but with the other apps you may not even get to take the survey or you may have to do hundreds just to get a fiver, but with this one it is made so much more simple and I love it. Just on the picture
Thank you all so much for reading this and I hope it will come into good use for you all. I use these all and trust them all if that is any consolidation ahaha. But yeah, just one more reminder that, as an affiliate, I get a commission for any purchases, so thank you if you bought something LOL but yeah, hope you have a great day, stay safe and stay yourself PERIODT
---