I feel like a lot of people will understand me when I say that there are things that people can literally just talk about and that makes you feel exhausted or just unmotivated to do that thing despite the fact you aren't even going to do it but the thought of it is so horrible you want to cry? That is a bit of a weird introduction but you know what I mean, right? Like if someone was like "oh my god do you remember that time you went kayaking for ages and your arms and legs and everything were exhausted and then you had to do a 10K walk afterwards?" By the way, that was targeted at my dad and I am still mentally recovering from it. But whenever I remember that it is as if I get PTSD from it and literally get so scared at the thought that I did that. I don't really know where I am going with this intro but I am going to stop now and we can start talking about things that make me physically and mentally fed up.
Camping
As a white family, we did some messed up shit. Like that might sound racist but I have seen videos of POC who are like "white people are messed up" and I agree with that because my family just be going outside in the middle of nowhere to shit in a fucking forest and sleep with the bloody insects. We used to do this a lot and I guess it was fun with my friends but like now that I have half a brain and am not made to enjoy things, I really do hate camping. I'm sorry but I just don't see the point. You gotta pack and carry a bunch of shit and bring in to the middle of nowhere or go to a cramped site with a bunch of kids screaming and people being actually active and going on walks at like 5 in the morning and, while there are toilets, they are so stinking I feel like I contracted 10 diseases just by washing my hands. To be fair, I don't mind if I set up a tent in my back garden, but if you expect me to bring fucking sleeping bags and a fire starter, I will in fact run away. So I can not be bothered to go camping. I would prefer to look at the stars from the comfort of my bed, looking through the window or standing outside for a sec while the kettle is on thank you very much.
Small Talk
I'm sorry but we need to normalise going straight to the deep stuff. And that doesn't mean "what is your star sign" because at that point I would walk away, but I mean instead of being like "the weather is crap today isn't it lol", why can't we just be like "What is your favorite childhood memory". I know that sounds creepy as fuck and I definitely wouldn't just go up to someone and say that, but like I hate small talk. It is so cringey and awkward and it very rarely leads to anything. We can hardly go like "yeah the weather is crap, but do you know what else is crap? The cats movie" and then go off on a whole tangent because to me it seems desperate. It is also awkward starting off small talk. I know it is kinda just to fill in the awkward silence but I honestly hate starting a small talk convo because you just be like "sooo… how are you" like what the fuck is that.
Raising a Child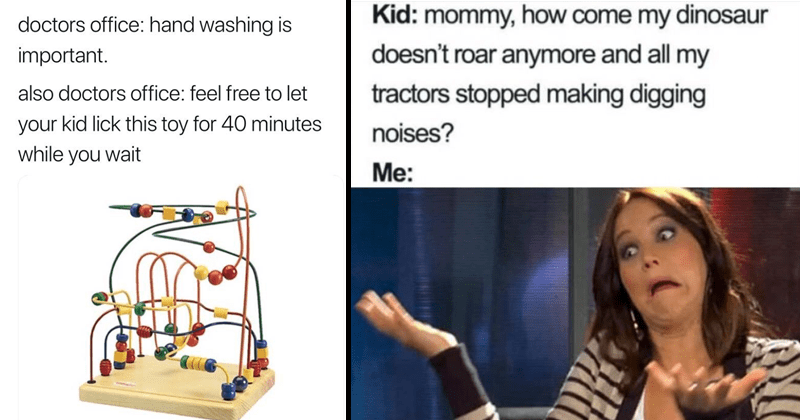 To be fair, I am a wee bit away from this happening to me… I hope, and my mind will probably change but does it not sound so scary to have to push a fucking human out and then one day they just kick you out of hospital and you and whoever your partner is are just standing like, what the fuck do we do now. This is the start of their fucking life. There isn't a big change in the world, sparkles and rainbows don't magically appear. You have to somehow understand what the baby wants by its crying, unless you are one of those people who can somehow communicate with babies or whatever harry potter, 6th sense, fairy-tale shit you have. And I'm really sorry if I am freaking out some pregnant person out there, I am sure you will be great, but like it could not be me. You need to make sure they are fed, they are breathing, they sleep, they shit everywhere, they get bored, they cry, they live. They are a freaking tiny human and you are making up a personality and a life for this baby. It sounds awesome but like what if they turn out like a prick. What if your child is a prick or just really annoying and creepy and now you have a literal annoying person living with you and if you say anything, they turn into rebellious teens and you are just waiting until they turn 18 but that is a long fucking time. But yeah, good luck to all the parents aren't there. At least society takes most of the blame for how mentally fucked they have become 🙂
Not Wearing Face Masks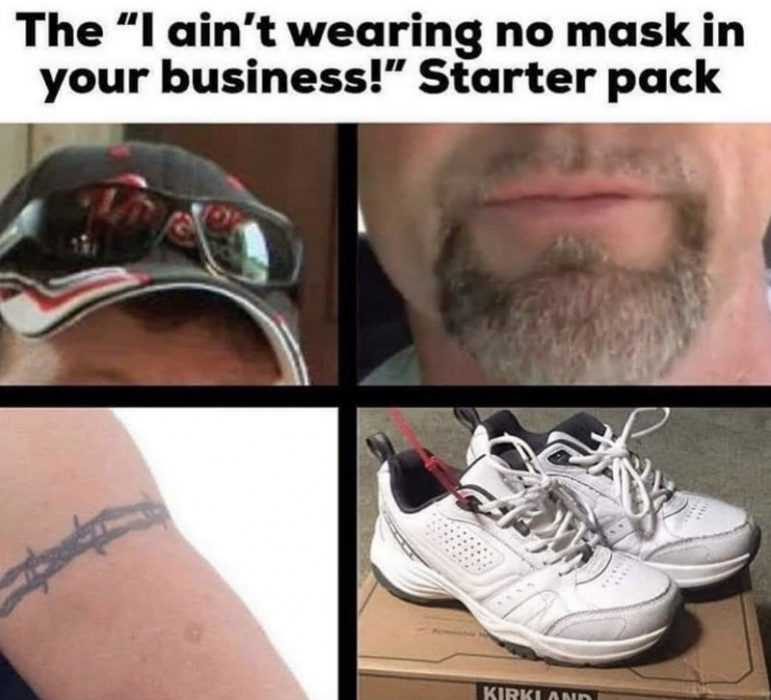 Despite the fact a lot of people are so dramatic with face masks and literally complain every second about how they "can't breathe" or "this is so uncomfortable", I kinda am going to be screwed when we don't have to wear them anymore because I do weird things with my mouth when my mask is on. I have a habit of doing that weird awkward smile all the time or just sticking my tongue out a wee tiny bit for absolutely no reason and also making tiny noises, but when I take it off I will have to remember that people can see my face and the weird shit I do with it and sometimes I can be quite expressive so what if in school someone I hate is talking shit and I just look at them with disgust and then see that I am silently judging them! I defo will be exposed but I think I'm ready for it. I don't know why but I always feel ready to throw hands at an annoying person if I needed to or just talk shit for a straight hour. Maybe if it leads to that, I can get some of my anger out and it will get better, yay! Watch me look at everyone with a rude face and start fights everywhere lmao.
Working In The Hospital
I was gonna say working as a doctor, but I feel like it doesn't give the other's justice because I don't think I could do any of their jobs. Like, when I was at hospital, the nurses were always so lovely and kind even though they had 10 old people arguing about the TV, 5 kids throwing up, 3 doctors ordering them to do things at a time and a partridge in a pear tree. They really do the most and are still happy but I cry if I burn my toast in the morning. That is a different type of hurt though. I am also watching grey's anatomy at the moment and, firstly it is awesome, but secondly, what the actual fuck. They just all seem to know everything. This guy could come in and cough once and they would be like "oh my god he has supercalifragilisticfeefifofumI'mgettingrippedtonight. And then they know how to fix it. How do they remember all that! Seriously though can any medical person please say how you know it all instantly and stay calm when you have to save people from near death and you know every detail and name of things. It couldn't be me. I would get stuck on how to pronounce a word and then not realise my patient is literally having a seizure right next to me. I respect you guys honestly. I also want to know if you actually do literal 48 hour shifts! Is that not literally kinda bad for you and also having to diagnose people. Do you not just cry at every single patient you see. Could not be me but thank you for volunteering as tribute *wistles*
Anyways, that's all I can be bothered with today in all honesty. Here's a bonus. Can I be bothered to do more? No, so yeah. But please do comment below if you have anything else to add, I always love seeing what you have to say, and make sure to like and follow for more. I hope you have a great day, stay safe and stay yourself PERIODT.
---
Content and Reading Time Have you always longed to be the aesthetic, mysterious person who always seems to be reading a book, drinking your morning coffee with your noise-canceling headphones on because 'don't talk to me until I have my coffee' and 'people don't understand me as books do'? Yeah me neither but I have…
What the freak is your opinion about swearing? No, this isn't your Mum
My best advice when taking the less "traditional" route of not going to university
Make a one-time donation
Make a monthly donation
Make a yearly donation
Choose an amount
Or enter a custom amount
£
---
Your contribution is appreciated.
Your contribution is appreciated.
Your contribution is appreciated.
Donate
Donate monthly
Donate yearly